The new radiators were all installed on Saturday and we are now nice and snug in our little home. The snow is melting fast now, still quite a lot of it lying on the ground but the trees are mostly clear and the ice has gone from the pond. From the forecast, there will be no white Christmas for us, snow came that little bit too early.
Pathways are still icy but Mike cleared ours today and also did Nellie's as she has the ambulance coming to pick her up for her regular trip to the hospital and because of health and safety, they would not even go to her door if the path was slippery.
This week I shall be wrapping presents, washing and ironing tablecloths, having my hair cut and generally getting ready for the family on Christmas Day.
I do not know whether I shall make any further entries this side of Christmas. In the meantime I have more photos of the weather we have experienced over the last few days.
Firstly, Nathan and Daniel having fun in the snow:-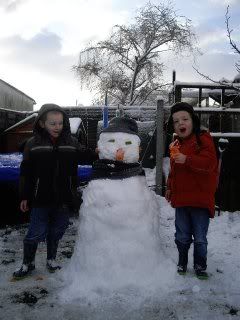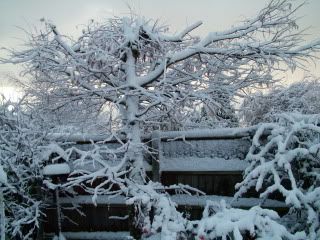 The edge of the photograph is not missing in the following picture. It is the snow around the pond which makes it look as though it has been clipped. As we keep the koi filter running all the time, the pond does not freeze completely and it looked so pretty.
So, my dear friends and readers, I take this opportunity to wish you all a very

MERRY

CHRISTMAS.

However you are spending it, whomever you are spending it with, Mike and I wish you all a happy and blessed time. I know I will give a thought to you all on Christmas Day. Remember also, amongst all the tinsel and glitter, the presents, the food and the fun, the true meaning of Christmas and why we celebrate it, the birth of our Lord. May He bless us all at this seasonal time and may He continue to bless us in the coming New Year.
Until the next time be safe, be well, be happy.