For once the forecast was correct. Here was the view at 9 p.m. yesterday evening.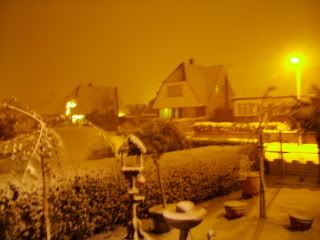 The next two were taken about and hour later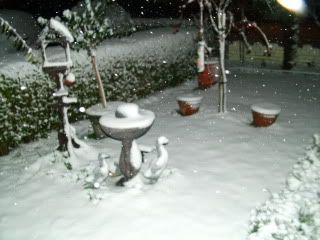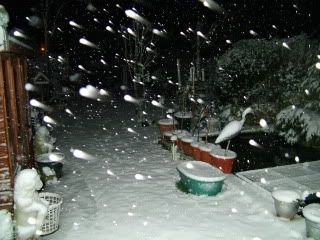 We have no idea of how long the snow continued but when we awoke this morning, this is what greeted us:-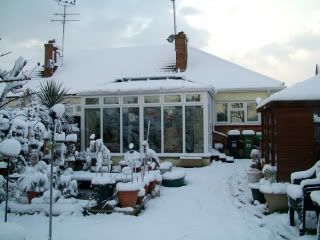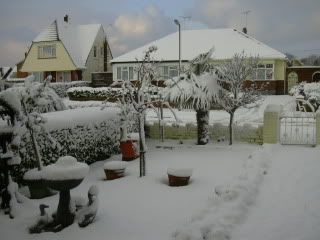 What a pity it came just one week too early. The chances of a white Christmas in our area are low. It is forecast to warm up around the middle of next week. The schools are all closed so the children have received an unexpected extra day holiday. We got an early phone call from an elderly neighbour, Nellie. Ron, across the road from us, usually gets any bits of shopping for her but he took a fall on the ice yesterday and has damaged his back and shoulder, he had to go to the hospital. She asked Mike if he could get her a couple of bits. He was only too willing. He also called at my brother's and he needed bread and milk. The local shop was already out of bread so Mike had to drive to the village. Luckily the main roads have been well gritted and he had no trouble getting through. So, he has done his two good turns for today.
Now I have some pictures of local Christmas lights for you, starting with our village Christmas tree:-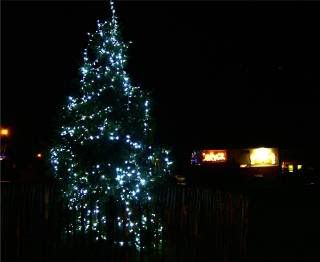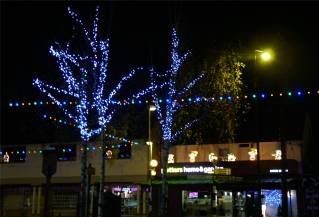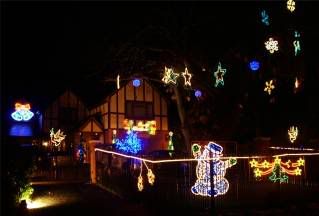 I must mentioned the large building you see on the right of the above picture and the one that will follow. It is the old pump room. In 1834 it was discovered that the water in our area was, at least then, every bit as good as the waters in Bath and Leamington Spa. So, the pump room was built around the local well and a hotel was built. Unfortunately for the investors, it was around that time that new seaside resorts were opening up and the long established habit of "taking the waters" was becoming less popular. Also, apart from countryside walks, there was little for people to do in the area. After a couple of years the whole venture fell through. However, both buildings still stand. The hotel is now a well-known and well used local pub.
The pump room itself has had a chequered history. It fell into ruin for quite some time but since then it has been small factories of different types and other things. Then it stood empty again - sad and neglected. An attempt was made to sell the water in bottles but it proved to be too competitive a market. One more it stood empty. However, it is now a private residence and has been restored to its former glory. It is obviously a listed building and will remain as it is now.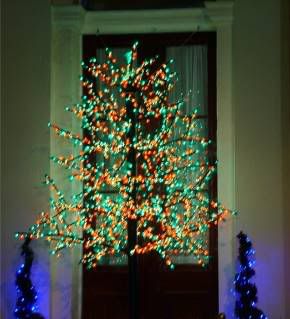 We had five new radiators delivered this morning and tomorrow all our old ones are being replaced. It will be great when it is done of course, but in this cold we are not looking forward to having no heating for several hours whilst the work is done. I shall move from room to room with an electric radiator which we have or, most likely, spend the time in the conservatory now it is so warm and cosy out there. Perhaps some of the snow will remain and I will be able to watch the birds feeding. Not sure about the snow, it is thawing quite fast but as the day passes and the temperature drops, it could well be around tomorrow. I know it will be extremely icy tonight.
If you have snow in your area, please stay warm and take great care when outside either walking or driving.
Until the next time, dear friends and readers.