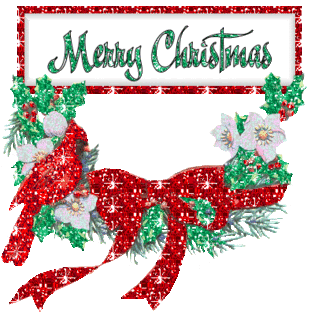 I have visitors from over 70 countries now. I thought it would be nice to send out my greetings to some of those countries who visit. I simply cannot cover every place and some countries have several languages or dialects.
As far as I know, not one person from these countries has ever made a comment on anything I have posted, but the fact that my journal is read or, at least viewed, around the world is very heartwarming. So here are my greetings for you.
I just hope that I have got everything right. So here I go
To France:
Joyeaux Noel.
To India:
Krismas ki subhkamna.
(Hindi) -

Naya Saal Mubarak Ho.

(Urdu)
To Spain:
Feliz Navidad.
To Sweden:

God Jul.
To Germany:

Froehliche Weihnachten.
To Italy:
Buono Feste Natalizie.
To Denmark:
Glaedelig Jul.
To Saudi Arabia:
Milad Majid.
To Malaysia:
Selamat Hari Natal.
To China:

Gun Tso Sun Tan'Gung Haw Sun.

(Cantonese)
Kung His Hsin Nien Bin Chu Sen Tan.

(Mandarin)
To Netherlands:

Vrolijk Kerstfeest.
To Greece:
Kala Christouyenna.
To Hungary: Kellemes Karacsonyi unnepeket.
To Iraq: Idah Saidan Wa Sanah Jadidah.
To Japan: Shinnen omedeto/Kurisumasu omedeto.
To Lithuania: Linksmu Kaledu.
To Malta: IL-Milied It-tajjeb.
To Poland: Wesolych Swiat Bozego Nardzenia.
To Portugal: Feliz Natal.
To Romania: Craciun Fericit.
To Russia: Pozdrevlyayu s pazdnikom Rozhdesta is Novim Godom.
To Thailand: Sawadee Pee Mai/souksan wan Christmas.
To Turkey: Noeliniz Ve Yeni Yiliniz Kutlu Olsun.
To Vietnam: Chuc Mung Giang Sinh.


To Phillipines: Maligayan Pasko.


To Czechoslovakia: Prejeme Vam Vesele Vanoce a stastny Novy Rok.
Of course my greetings go out to all the other countries I have not mentioned including Australia, Canada, New Zealand, Singapore, South America and so many others.
Above all to my friends in the U.S.A. and the U.K. who have been and remain my biggest supporters. Thank you. To all of you
MERRY CHRISTMAS