We had a pleasant if reasonably quiet Christmas. The family came over and we had our Christmas meal at 2.30 p.m.
Alas, this was not a good choice for me. I never eat at that time of the day but always in the evening when I take my two types of diabetic medication. I was not able to do that, of course, and later in the day it knocked me for six especially as I had some red wine mixed with soda water and I never drink. Still, we knew that Dean had to see his own family on Christmas Day as he was on call-out for Boxing Day and could have been working the whole time. So, I hope that for just one occasion it has not done too much harm.
I had some lovely presents including a pair of diamond earrings from Mike, a nice new handbag from Becky and Dean, some books I wanted and some DVDs. Everyone seemed to like their presents and Nathan and Daniel were in high spirits as usual.
We usually take quite a few photographs but for reason we did not do so this year. I do have a couple though. Mike being the camera operator is not in any of them.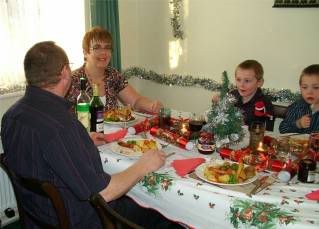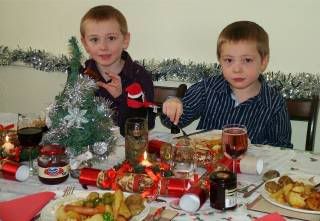 To be honest, Mike and I both feel exhausted now. We spent most of Boxing Day dozing which is unusual for us. But it has been pretty non-stop here since October what with the new boiler being fitted, the demolition of the old conservatory and the building of the new one, plus new doors and windows being put in, then blinds fitted, then a whole day of radiators being replaced, not to mention Mike's operation and Becky's (by the way Becky is doing fine now and does not return to the hospital until some time in January).
I know we did not actually do the work but it was still tiring having people here every day from very early morning until dark. We simply never had the chance to relax. So, it has to catch up with you sometime or another especially as you get older.
My stomach is quite upset at the moment from the rich food which we are totally unused to. I am a bit worried because I have to have my HB1C blood tests straight after New Year and then see the diabetic nurse so it has all come at the wrong time really. I just hope the readings are not as bad as I fear and I will not end up having to go on insulin, something I have always dreaded.
Also, you remember a year ago, my lovely diabetic nurse left. She was the one who always made allowances for my getting in a state when I go there. Well, now the head doctor has left, the one who referred me to the breast clinic in the first place. He was lovely and you could talk to him about anything and he would listen. Whenever I was truly worried about something I would make an appointment to see him. It was a shock to find he was leaving the practice at Christmas and even more of a shock to find he went in October! So, I have nobody there now that I really like and trust, nobody that will really listen to me and truly understand what I am saying and why.
You will gather that I feel more than a little down right now. I am hoping things improve in the next few days.
Anyway, I hope you all had a nice Christmas. I know that Lisa lost another beloved animal and she has had a sad Christmas. I guess we always have high expectations and they never really live up to what we think they should be.
To finish, you know what they say about giving children expensive presents when they would be happier playing with the wrapping...........................................well, here is the proof!
Until the next time, dear friends and readers.