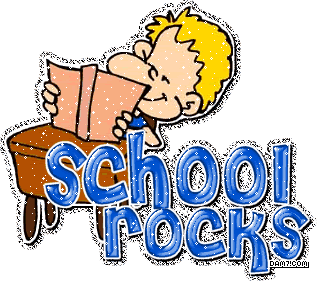 Today Daniel started his life at school. A day of mixed feelings. Pride at him in his school uniform, sad that the time has gone so quickly and our babies are not babies any more. They grow up so quickly.
He was very eager to go, which is good. He knows his teacher already because she was Nathan's teacher last year and Daniel met her on many occasions when they picked Nathan up from school. So he has a plus that Nathan never had.
This first week, Daniel will only do mornings but next week he will start full time so, for the first time in years, both boys will be out all day. I have not spoken to Becky yet today but I imagine she is a little emotional. From a house full of noise, there will now be days of silence. However, she says it will give her a chance to catch up on many jobs that need doing and could never be done because the boys were always into everything. Also she will have to do the school run in the mornings and afternoons, plus their swimming trips and anything else the boys get involved in over the next few years.
Anyway, here are a couple of photos taken on little man's day:-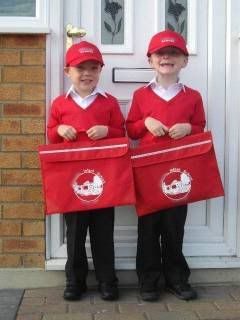 Next week when Daniel begins full time, the boys will be able to eat lunch together and met up at breaktimes. That will be nice for both of them.
Still no rain here. I am hoping we do get some this week although hopefully, not on Wednesday as that is the day I shall be another year older and the family will be over late afternoon. Mike has been very mysterious about my present, so I cannot wait to find out what it will be.
This year my birthday falls on 09/09/09. I am so hoping that is a lucky omen. I read that many couples are getting married on Wednesday because of the special date.
I hope to get some photographs then, we shall see. If we do, I might well do a post in the evening when the family have gone.

I find it sad that there seem to be less and less postings these days, more and more people seem to be dropping away. I know some are on holiday but others have just stopped completely. It is certainly no J-Land and I, for one, have not noticed the community spirit we had then. Well, nothing lasts for ever and I think J-Land spoiled us for anything else.

Well, I suppose I had better go and get some housework done. I cannot imagine housework fairies and pixies suddenly appearing to do it for me.

Have a good week everyone and God bless.