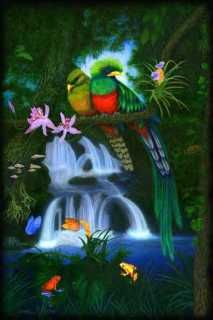 As you will know from my previous entry, today is my Birthday - 09/09/09. I hope that this unusual date will be very lucky for me in the coming year to my next birthday. My beloved Mike gave me the most wonderful present. I had not been able to wear my wedding ring for quite a few years as it no longer fitted me and I had never had an eternity ring and he knew I wanted one. So here is the present that he gave me, not one but two beautiful rings:-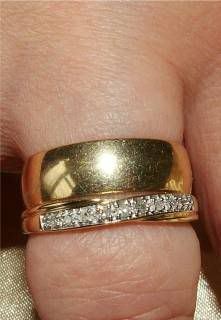 I also received a beautiful bunch of flowers:-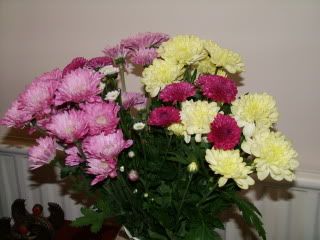 Now, to the heading of this posting. It was many a long year ago that I was to encounter this star. It is an experience that I have never forgotten. Of course, I looked very different back then. My hair was much longer and it was curly and auburn in colour. It was also in the days when I could get out and about.
We were on holiday at the time and came across this new attraction. Of course we just had to pay our money and go inside. I had no idea then that I was going to meet and get closely acquainted with Judy Garland.
Mike had his video camera with him and got some film, although it is very short. It has remained on that tape throughout all the intervening years being viewed now and then. However, VHS tape does deteriorate. No matter how well you store it, no matter at what temperature and even if you hardly view, tape will eventually destroy itself just as it has done with many of the old movie films.
Until quite recently it was impossible to transfer VHS tape to disc and then onto your computer and put into a format that you could view on a journal. Thanks to hours of hard work from our Dean, he has managed to single out that piece of film, and put it into the correct format.
So now I can share it with you all. Do you want to see Judy Garland and myself? Are you ready? Then here we go:-
O.K. I will come clean. For a bit of fun I led you all up the garden path. Yes it was Judy Garland but not the Judy Garland. That Hollywood star had left us twenty years before but the keepers at this newly established wildlife centre had named her that because she was the star attraction!
I have never been frightened or worried about snakes although I might not be so keen on the venomous kind. In fact I find them fascinating and beautiful creatures. I had another type of snake around my neck many years previously when I was still at school. I would dearly have loved to have brought Judy back home with me!
The film was taken at a place called Tropiquaria in Somerset. As I said, it was only recently opened when we visited but they had great plans for it and those plans have come to fruition. It has since gone from strength to strength, been given an award and has a wonderful collection of exotic creatures and much for children to do.
It was an experience that I truly loved and will always remember. As far as I know and as snakes are long-lived creatures, Judy is still there and many will have held her since I did. If you want to know when the film was taken it was in August 1989.
Well, the family will be over later so I had best away and make the most of my birthday. Another year older and deeper in debt as they say.
Until the next time, dear friends and readers.