Firstly, very Happy Anniversary Wishes to Becky and Dean who are celebrating their special day today. How quickly the time has gone - sixteen years of married life. It does not seem all that long since I was sewing crystals onto her wedding dress. They have known each other a lot longer than that, of course, well over twenty years. So, Mike and I raise a glass to them both. May they be happy together their whole lives long. We could not wish for a finer daughter or son-in-law.
Secondly, thanks to all who commented about the mystery bug and the photos I included in my previous entry. Our dear friend Morton was the first to solve the mystery. In fact within ten minutes of my posting, he gave me the answer.
Yes, it was a shield bug also known in the U.S.A. as the stink bug. You never stop learning. In fact, it is not a beetle at all as I thought, but belongs in a genus of its own.
Although sometimes mistaken for beetles, shield bugs belong to a different group of insects, the Hemiptera. They feed by sucking sap from a wide range of plants but generally cause no noticeable damage to cultivated plants, even when numerous. They overwinter as adults but, before seeking sheltered places, they are seen in late summer and autumn sitting on plant foliage in the sun. They are also active in early summer when they lay small clusters of eggs on the undersides of leaves.

In recent years the native green shield bugs seem to have become more abundant and widespread. Other species of shield bugs that are brown or yellowish green with reddish markings can also be found in gardens.
They are supposed to emit a noxious smell when threatened. Well, Mike picked our little visitor up and nothing happened so the creature obviously did not feel Mike was any danger. We have not seen it since. Let us hope it is going happily about enjoying its life.
I was amazed to read that there are 30 different species of them here in Britain which makes it even stranger that neither Mike nor I had never come across one before.
Here endeth the lesson in entomology (unless something else strange turns up).
We are still not getting the rain we desperately need. Just a few showers but nothing that will really help the garden. The lawns are brown and the ground is like concrete. We are getting very strong winds though. We shall soon have to empty out all the summer tubs and try to put something in for winter colour. I usually prefer winter pansies but it becomes expensive when we have so many tubs. I might cut down a little this year. We shall see.
Before I sign off, here is a photograph of Jesse and Leo taking a little siesta together:-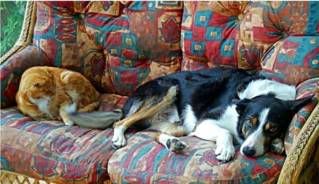 Well, that is all from me for this time. Have a happy and peaceful weekend, dear friends and readers.