There is a definite feel of Autumn in the air now. The hanging baskets are finished and have been taken down, the nights are drawing in fast and the leaves are starting to change.
Now, we have a bit of a mystery! Whilst I was on the computer this morning, I glanced up and saw this strange creature. Strange because I personally have never seen one before, even at my time of life. Mike walked into the room and before I had a chance to say anything, he noticed it as well. It was on the wall just above my computer desk. He confessed he had never seen one either.
It is obviously a beetle. However, we cannot look it up on the internet unless we have a clue as to what it is. There are millions of beetles!!
Mike grabbed the camera and took a couple of shots. On the wall it was a very dark green, it almost looked black.
When it moved it did not fly, it jumped. It jumped from the wall down to a shelf and then from one end of the shelf to another, quite sizeable jumps for a creature like that, before Mike released it.
Now, we have a policy of never killing anything that enters the house. We believe that all creatures have the right to live. So whether it be spider, moth, butterfly, beetle or anything else - it gets captured, either by hand or in a jar and safely placed outside.
Mike took our strange friend into the back garden and put it in some thick foliage. It immediately changed to a very bright light green with just a touch of brown on it. It obviously uses colour-changing camouflage. So, now we are more intrigued than ever. What is it?? Is it a species native to Britain or some visitor that has come in from abroad? If anybody knows please can you let us know as we would love to find out more about it. On the outside pictures, it looks similar to a Cricket, but nothing like that on the interior photographs. To make sure, I looked up Crickets on the internet and this strange little fellow is not one of those. Here are the outside pictures.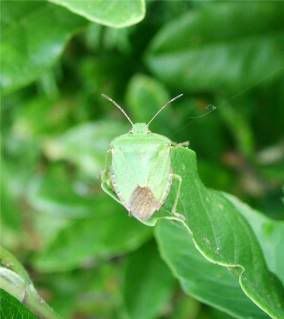 On Sunday last we had a lovely dinner with the family which was greatly enjoyed by all. Nathan can be a little picky with his food so I told him that the roast potatoes were magic and so were the stuffing balls, they were Nanjay's magic. His face lit up. He popped a piece of potato into his mouth and closed his eyes so tightly, wishing all the time. He then did the same with a piece of stuffing and then I was told that he really liked the magic balls and he wanted them again. Bless.
I will finish off with a couple of pictures of the boys playing at the local park.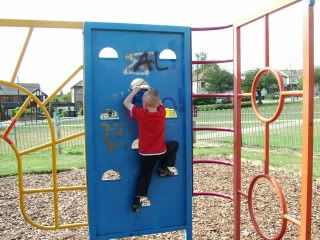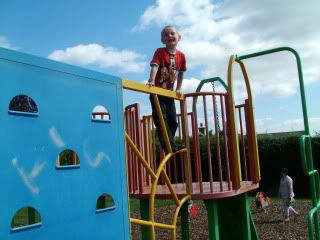 Well, it is blowing a gale here right now and it is also time for the evening meal. Please do let us know about the beetle if anyone knows.
May life be treating you kindly, dear friends and readers.