Firstly, on Daniel's behalf, I would like to thank all those who left him Birthday messages. His Mum showed him the journal entry and he was so delighted to see Mickey Mouse and Donald Duck. She read him all your comments. I shall be printing the entry off to keep for him so he could well have your words long into the future. If he decides to keep it, maybe even when he has children of his own.
It was a lovely day and very busy for both boys. They saw their other Grandparents and then they went tenpin bowling followed by a good romp in an indoor play centre. Then they came round to us. Daniel loved his presents. He is very much into "Ratatouille" so we bought him some little characters from that. His larger present was "Remy" from the same film. The one we bought him says little phrases and dances to music. Great fun.
Later on we all had a meal together. We had decided on a take-away. The boys are too young for Indian and not great lovers of Chinese food. So we had Pizza delivered to the door. Believe it or not, it was a first for myself and Mike. We have had Pizza of course, but the ones that you cook yourself, never ones that were delivered. They were so delicious. Becky and I had the vegetarian version and Mike and Dean had an assorted meats one. The boys had some of each. We also had onion rings and garlic bread. Pizza is a favourite of both boys.
Later it was time to cut the cake. He had a Spiderman one this year. I had a small piece minus the icing.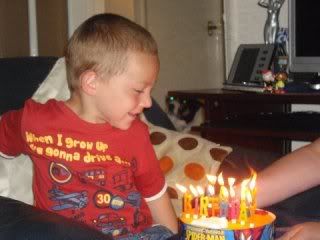 They were so tired after all that. It was big hugs and kisses all round and then they happily went home to bed.
Last weekend they had been away on another camping trip. This time not far from the Kent coast and they took trips into Margate and Ramsgate. They were so lucky with the weather, they only had a couple of short sharp showers.
Becky managed to get a couple of interesting shots of other things. People had been busy with shells.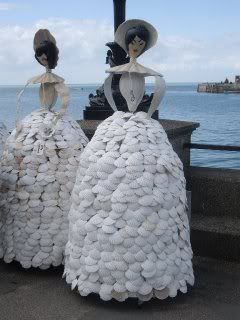 Seemed such a pity that the mermaid would be washed away as soon as the tide came in and they do have high tides there unlike some places where it does not come right up to the sea walls.
Also, not a very pretty obelisk but interesting all the same.
The inscription reads "To George The Fourth, King Of Great Britain and Ireland. The inhabitants and visitors of Ramsgate and the Directors and Trustees of the Harbour have erected this Obelisk as a grateful record of His Majesty's gracious condescension in selecting this Port for his embarkation on the 25th September in progress to His Kindom of Hanover and His happy return on the 9th November 1821."
So, with their camping trip followed directly by Daniel's Birthday, they had a very interesting, happy and exciting time.
Well, that is about all from me for now. I do hope that you have enjoyed seeing the photographs and I hope life is treating you well, dear friends and readers.