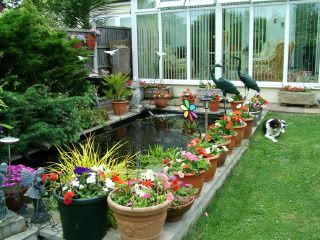 Our pond with summer flowers
It has been such a long time, the longest ever between postings.
Firstly, the good news. Yesterday, after a four and a half week wait I got my third year "all clear" from breast cancer. Only two more to go before full remission. We are so happy about that.
I know that all of you who have followed me since my diagnosis and long before then will rejoice with us.
The less good news is that I have been laid up for three weeks with sciatica and a damaged muscle in my knee. As I cannot take anti-inflammatories it has been a question of just rest and painkillers. This is an attack that will just have to burn itself out so my computer time is limited but I was determined not to leave it any longer before writing.
It has been impossible for me to sit here and even now I am in quite a bit of discomfort.
We have the builders in again. We decided to have a porch added to the front of our property, a place to keep the dogs leads, umbrellas etc. We had the bricklayers in two weeks ago to start the foundations and build the small walls - since then we have had to wait for it to fully harden off.
Now our builders friends, Paul and David are back in to do the rest.
Here are some photos taken when the bricklayers were at work:-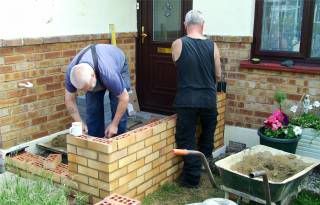 How Leo enjoyed sitting on that wall in the sunshine. He is going to miss it!
Now the framework is starting to go up. No roof as yet and no glass but it is taking shape and we think it is going to look very nice once it is finished especially as we had a stained glass window especially made for the door. I found an image I liked on the internet and the firm had it made up for us. So more pictures will be coming soon.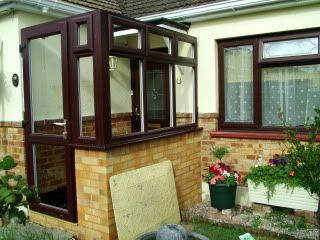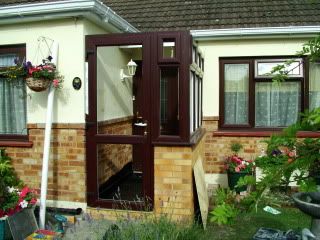 Quite a bit of work remains to be done. As I write they are laying the final concrete floor. Tomorrow will be the roof and the guttering, then the fitting of the glass, the electrics and the final finishing touches. That will probably be next week.
The weather is far too hot and humid, quite unbearable and tomorrow they say is going to get worse. We have a weather meter that reads the outside and inside temperature. Our back garden is very sheltered. One day last week it read 107 degrees fahrenheit out there, so even too hot to sit out even if I could.
Mike is having to water the garden every night and we are dreading a hosepipe ban. Apparently we have had the driest first six months of the year for eighty years, yet some people think it always rains in England.
Mike has been a brick looking after me and still doing things for my brother.
May I ask you all to say a little prayer that this sciatica leaves me soon and also the knee trouble so that I can stop hobbling around the way I have been.
I have been walking like an old crone and feeling like one as well. I do not want to spend all summer lying on my bed.
I will do my best not to leave it so long before the next posting. If your prayers work then I shall be posting again in a couple of days.
In the meantime we can rejoice that I have my three years clear. Another milestone achieved.
Take care and God bless you all, my dear friends and readers.