Hello dear friends and readers.
It has been quite some time since I did an entry. Firstly I have been very busy with my brother, trying to sort things out for him and then, ten days ago, I awoke to find I could not lift my left arm, the pain was unbelievable. We called the doctor out and after a thorough examination, he told me it was a frozen shoulder and that diabetics are prone to them. That was news to me, I have been diabetic for many years now and this has never occured before.
I did have a frozen shoulder on the same side about twenty years ago and had three months physiotherapy for that - the days before I had a computer. I still remember the exercises so the doctor has told me to do those but only when the pain is not intense. He feels it has probably been brought on by all the stress.
Normally they would prescribe anti-inflammatories but I cannot take any of them. They always cause stomach bleeds and other nasty symptoms. So he has just given me pain killers which only deaden it a little but I cannot lift my left arm, my beloved is having to wash my hair for me and help me get dressed.
The doctor has written off to the hospital referring me to the shoulder clinic and he thinks they will give me an injection straight into my shoulder. However, the wait will be several weeks and............my yearly mammogram is before then. I did see my oncologist before all this happened and she could find no abnormalities but I cannot have peace of mind until I have that mammogram and know for sure there is nothing there. It is all very worrying to me that this frozen shoulder is the same side where I had the two cancer operations. Still, the doctor confirmed he had heard from my oncologist and she stated she could find nothing wrong.
However, I really do not want to have to cancel that mammogram so I am asking you all to pray for a minor miracle and that the pain will diminish enough for me to keep that appointment. They are also forecasting a heatwave summer and I just cannot go out in the intense heat which is another reason I do not want to cancel the appointment, as you will understand.
I do hope that one year I will be totally free of hospitals, I live in hopes. I could not understand how I could have gone to bed one night the same as always and awoken the next morning to a frozen shoulder.
Anyway, I have not been able to take pictures of my fairies as I promised in the last entry but I do have some more old photographs to share with you. Before all this happened, as you know, I was going through them all, improving them and saving them.
This first one is of myself and my Father. We were on holiday and I was fourteen years old.
The next one is Mum taken with my eldest brother, the one we are now helping out. It was taken in 1933
This next one is me again, taken on holiday. I think I was about ten years old at the time.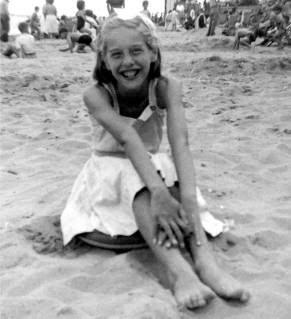 Next is my beloved Grand-dad. The photograph was taken in Devon and he is holding the hands of my two brothers.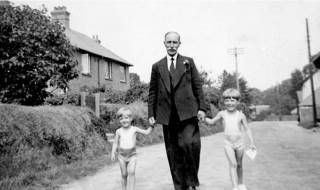 Now a photograph of my Father. Sorry, I have no idea of the date or where it was taken.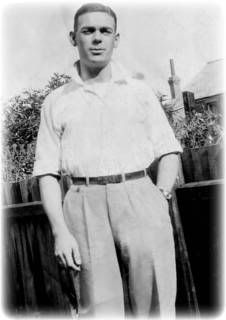 Now my two brothers again. They are seen with my Dad's favourite dog, Dukie. Dukie was unfortunately killed during the war. He used to watch out for my father coming home on leave and would always rush to greet him. One day he must have seen someone he thought was my father, dashed out of the back door and ran across the road towards the man. He was struck by an army lorry. My father had many dogs afterwards, but he always talked about Dukie until the day he died.
This photograph was taken in Wales so it could not have been too long before his tragic end.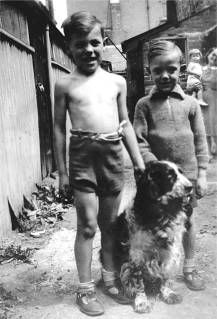 Lastly, my Mum. Again I do not know where or when it was taken, it could even have been before her marriage. All these photographs have been reproduced by me from tiny Kodak Brownie snaps so I am very pleased with the way they have turned out.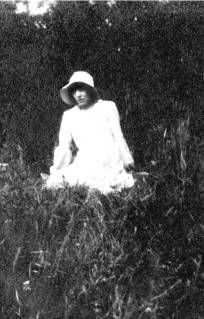 It has been so painful for me to sit here and do this for you but I have been missing my journal very much. Also I would normally be thinking of getting bedding plants in by now but it is out of the question for me. I can only ask my beloved if he will get some plants and do them for me.
Once again I ask for your good wishes and prayers that this shoulder trouble will not last too long, that I will somehow be able to keep my mammogram appointment and will soon be back to my old self.
I will leave you with a picture of our Nathan and Daniel, the latest one I have.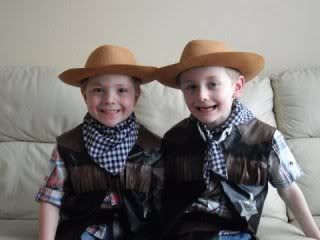 Know that you are all in my thoughts and those of you with health problems are in my daily prayers. Until the next time, dear friends and readers.