What a glorious few days we have been having weatherwise. The breeze remained a little too chill to actually sit outside until today. I have spent some time just sitting, looking and enjoying until I got too hot and had to come back inside.
The cloud of volcanic ash which has grounded all aircraft in and out of the UK and Europe for several days has certainly not made its presence felt around here yet, not in the way of any pollution that is, but what bliss it has been. Living as we do, very close to an Airport, although not a major one, we have come to take the background noise for granted. However, this last few days there has been nothing except the song of the birds and it has been heavenly. It must be wonderful for those who live on major flight paths in London and other major cities. Yes, people have to travel, but after experiencing the last few days I cannot help but believe that the world would be a better place without aircraft, lack of noise, lack of pollution, fewer diseases being brought in and more difficult for terrorists.
Maybe I was born in the wrong century but I like it without aircraft.
We have been busy helping my brother clear out lots of things, Mike has made endless journeys down to the local tip. My brother is now getting the care he needs, nurses going in, someone to help with the housework and the shopping. It will start to take the pressure off Mike. We seem to have had nothing but stress since Christmas.
The trees are, at last springing into new leaf after Spring has been so delayed this year. We have Bluetits nesting in one of our boxes and the evenings are lighter. I think we all feel better for that.
Now, I have some photos to share with you, taken in our garden. I hope that you enjoy them.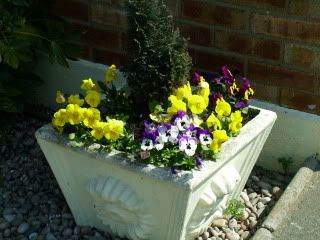 Lastly, Jack enjoying a doze in the Spring sunshine.
I am now into collecting fairies. I have not collected things in a long while. I have four so far, two are pewter and two are resin but very pretty they are. I shall put pictures on for you next time.
Well, I am going to make a cup of tea now. Then I always listen to the radio at 2 p.m. on Sundays - Gardener's Question Time. I cannot do as much as I used to in my garden but I do love to hear the questions people ask and the hints and tips given. Then I shall probably venture out into the sun again for a little while as they say the weather is going to change this week.
So until next time, dear friends and readers, love to you all.