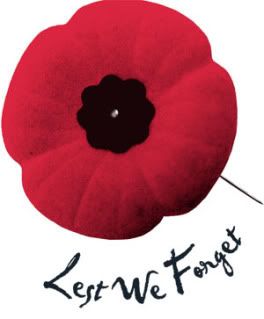 I know I have already posted today (please see previous Memorial posting if you have not already done so) but I wanted to share something else.
I had explained to a dear American friend that we share the same Remembrance Day - November 11th but our National Day of Mourning is always on a Sunday nearest to that day. This morning the Queen lead the Service of Remembrance at the Cenotaph in London.
On Saturday night we had the Festival Of Remembrance from the Royal Albert Hall also in London.
I wanted to share this video with you.
The singers are three serving soldiers and last night, they sang in their uniforms ,wearing their medals. They have just released a CD. The proceeds of sales will go to help injured servicemen through the British Legion.
Simply known as "The Soldiers" they are Lance Corporal Ryan Idzi, Sergeant Major Gary Chilton and Sergeant Richie Maddocks.
Sit back and enjoy this beautiful and very touching song.
I would ask all readers in the U.K. to please purchase this album and offer much needed support to the men and women who have given so much for us.