The time of Remembrance has come around yet again. Over ninety years ago the world saw carnage on a scale never imagined. Hell on earth. It was "the war to end all wars".
It could never happen again, it would never happen again. That was a lie. Twenty one years later we saw another war on much a similar scale but this time thousands upon thousands of civilians died as well - killed in bombing raids or exterminated in camps.
Of course, there had been wars long before these. Going back into the mists of history, there have always been wars and, as long as man survives, it is likely that there will be others.
However, national remembrance only came into being after World War One. Today we remember all those men and women who laid down their lives in sacrifice for King/Queen and Country.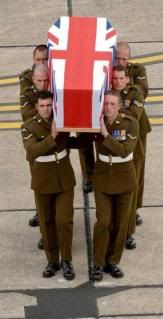 Since World War Two, our brave troops, not just the Army, but the Royal Air Force and The Royal Navy and all branches of these services, have fought in the following places (to name but some)

India, Palestine, Malaya, Korea, Suez Canal Zone, Kenya, Cyprus, Suez 1958, Borneo, Vietnam, Aden, Radfan, Oman Dhofar, Northern Ireland, The Falklands, The Gulf War, Bosnia, Kosovo, Sierra Leone, Iraq and Afghanistan.

More young men gave there lives in Afghanistan just this last week. The numbers of the dead of these wars are countless . Those that survived were often horribly maimed or disfigured, others traumatized by their experience.

The Poppy Appeal is just as important today as it has ever been. Wear your Poppy with pride, salute all who have made the ultimate sacrifice on our behalf. Remember those they left behind. Support our troops.

Today, the United Kingdom remembers, The United Kingdom salutes you. Bless them all.

When you go home
Tell them of us and say
For your tomorrow
We gave our Today.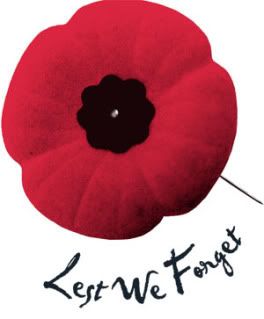 Since posting this, it has been announced that two more British soldiers have lost their lives in Afghanistan. Their families have been informed.