I have long wanted water in our front garden. Nothing noisy that would irritate the neighbours and not an actual fountain
because when the wind is strong, which often happens in our Lane, then it would blow everywhere.
I saw the perfect thing. It arrived on Saturday. Him indoors set it up and cemented it down so that nobody could make off with it. We then added ornaments. Several years ago Becky bought us a set of ducks. They have always been in the back garden walking across the lawn but every time my beloved mows, they get moved. In the end they were scattered far and wide and I could not find them all. So on a duck hunt we went. All were safely gathered up and also cemented into place.
So now we have a new feature that passers-by can enjoy as well as ourselves. It costs nothing to run as it is solar powered. It also gives the birds a drinking station and a place to have a bath. We are very pleased with it.
The water just bubbles out of the orb and trickles down.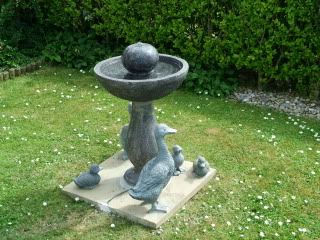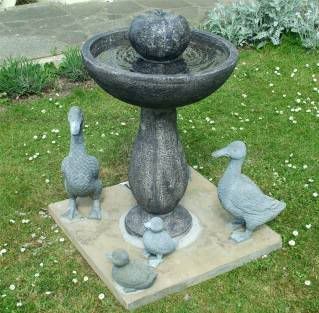 One of my indoor plants is flowering and it is amazing! More amazing because this plant normally grows on trees in tropical climes. I stood it out in the shade in the garden last summer and it put on amazing growth. However, I completely forgot it in the winter and with the freeze up and the snow, I really thought it was a goner. However, I brought it back indoors and a few weeks later it burst into life, as you can see. The new header at the top of this journal is part of it, photographed by Mike.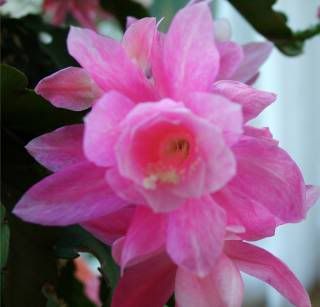 The whole plant is nearly three feet in width and has well over one hundred blooms on it. Truly beautiful.
I am still having trouble with my back and hip although it is a lot better than it was. I do hope it will go completely as I have my hospital appointment, not this week but next. Getting nervous as you can imagine. It will not be easy travelling there because it never is, but it will not be easy sitting on those hard chairs waiting or climbing onto the examination couch unless it gets even better than it is. Please pray for me.

The family were over on Saturday. The boys went mad. They found some polystyrene and proceeded to break it up into tiny pieces. Was Nanna cross? No, of course not. They were so happy. They kept shouting that it was snowing and covering each other with white dots. Laughing fit to bust. Sometimes boys just have to be boys. Becky said she was still getting it out of their hair and clothes long after they got home. The fact that they had fun is the main thing. Doing something mad once in a while never does any harm. Now Nathan is at school (hard to believe nearly for a year) and Daniel commences on the 4th September, their lives are much more regimented, they have fun learning but it is a different sort of fun.

You will see the mess that had to be cleared up afterwards. You will also see two very happy little boys.
I have some Geranium plants on order. They will only be small so will have to be grown on. Also a standard Buddleia which will be going in the front garden. As we already have lavender out there it will be another attraction for the bees and butterflies. So, at least I have something to look forward to after my appointment on Thursday week. I still have to have my mammogram of course, but the appointment has not come for that yet. It will be early June. I shall be glad when my appointments are all behind me.
Well, that is about all for now, dear friends and readers. Wishing you all a great week. Take care and God bless.