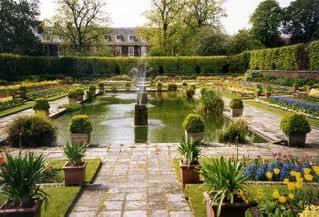 Today I shall be having a two-tone lounge! Let me explain. I took our heavy curtains down to wash. Without them the room seemed so much bigger and so much brighter, so I decided that they will not be going back up, certainly not until next winter and maybe not even then.
We do have blinds we can close at night so privacy is not a problem. Well, once more light flooded in, it showed up the walls and how grubby they have become. We thought of washing the walls down but then decided that re-painting might be a good idea.
So, him indoors went to the local paint shop and picked up some paint charts. We decided on a colour. Now, these colours have to be mixed. He came back with a tin of paint. Immediately I saw it I knew that it was nowhere near enough to cover our walls. "I know, says him indoors, "but they had run out of paint and will not be getting more in until Tuesday". Men!!! Did he know have the nouse to say he would leave it and go to another place where they had ample supplies? No, that is not my Mike.
So he has decided to push ahead anyway and do only two walls. So for a couple of days I am going to have a lounge that has two magnolia walls and two adorable peach!
He is already telling me to hurry up and get off here as he wants to disconnect and move the computer. So that will be out of action until he has finished.
Yesterday, Dean came and dug a tree out of the front garden for me and also two straggly pieces of Privet. I had originally planted this Christmas tree out about twelve years ago. It was bought as a centrepiece for a Christmas table, in a pot and fully rooted. I decided it was a pity to waste it and put it in the front garden. However, it never grew into a lovely Christmas tree shape, it just became a total mess, a miserable specimen indeed. So, I ordered an Amelanchier online. They have beautiful foliage in the Spring, pale green leaves in the summer and beautiful autumn colour. I did not want to ask Mike to dig the old tree out as it is heavy work and he is getting on in years. So, Dean took it out for us yesterday.
I hate destroying trees but I feel better about it as something better will be going in its place.
The boys were out in the front garden having a high old time and were very good and did not attempt to go into the road. Later, Mike did dig out all the lavendar for me, that was much easier to do. I love my Lavendar but they are short-lived plants even with careful pruning. We were very lucky to get fourteen years out of them.
So my front garden now looks very sad. Big gaps everywhere. However, I have ordered new Lavendar plants to replace the old, so this summer we will have a riot of mauve again and the bees, if there are any, will have a field day.
Once the new tree arrives and is planted and likewise the lavendar, it will look very nice again.
Oh dear, whilst I have been typing this, him indoors noticed that the painting he had started bears no resemblance at all to the colour chart. Either they mixed it wrongly or, the charts are totally out. He does not like it, it is too cold looking, more like white than peach. So, he has just gone out of the door, mumbling and moaning, saying he is off to get more paint of a slightly deeper hue and telling me to be off the computer before he returns so that he can get "stuck in".
Strange what Spring does to people.
Sorry I am not able to comment on your journals today but the computer, as I said previously, has to be disconnected and moved to get at the walls. I normally have to nag my beloved to do things but he decided he wanted to paint today so who am I to stop him! Go, Mike, go.
Oh well, it will all be nice when done. Happy Sunday everyone.