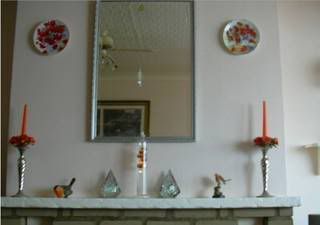 This is not a very good photo of the actual colour. If you look in the mirror, the back wall is more the colour - the name being Palest Tangerine. It is difficult photographing our walls because we get no direct light into the room. Our lounge has no windows of its own and the light that does come enters through patio doors onto the sun room which has a solid roof. As I say, looking in the mirror gives the best interpretation of what it looks like now.
I finally had to give in and go to the the doctor's this morning. This is now the fourth week since I went down with the bug. The sneezing part hard gone, the chesty cough had gone but oh my head. Both ears so painful, feeling as if they are full of cotton wool, strange noises in my ears when I swallow, swollen glands, painful sinuses and a feeling of a band around the head. Walking around like I had an alien sitting on my neck.
I had tried everything, steaming myself over bowls of hot water, burning Eucalyptus oil, sniffing Olbas oil on cotton wool, eating raw garlic - not pleasant as it burned my mouth and also not pleasant for others because I reeked of garlic all the time. I tried the plugs you put into the electric socket that emit menthol. Well, you name it and I have tried it. Nothing helped in the least. If I do manage to get anything out it is a nasty green shade. So, I could not put up with it any longer.
The doctor has prescribed antibiotics. He says this has been a very nasty virus and it is obvious that my ears and back of my nose are infected. So, I have just swallowed my first tablet. I did not want to go on antibiotics as they raise blood sugars, usually upset my stomach and have a tendency to make me depressed and I feel low enough as it is.
Anyway, I can only hope they do the trick. If any of you know a cast iron way of removing catarrh, please let me know. So, I have a week of these now. God knows what my next HB1C reading is going to be now having been ill for the last few weeks. I know the new nurse will not make any allowances as my lovely Kim did, she is not the type. This year is certainly not turning out to be a good one for me, I hope to God it starts to improve, I truly do. I also learned this morning that my pharmacist who has always been brilliant with his advice and knowledge has now retired and gone. I am losing all the people I trusted the most with medical things.
So, I must admit I am getting myself into a bit of a state about the whole thing. I can only hope these darned tablets work and I start to feel better in double quick time.
My doctor was a great example, he was coughing fit to bust and told me he was trying to hold it back until I left the room. Charming. If you are not actually ill when you visit the surgery, you generally are by the time you leave!
More expense. I mentioned that we had dispensed with our heavy curtains. We have strip blinds we can pull across in the evening. Well, they needed a good clean. We did not keep the instructions that came with them as we have had them several years. It was suggested that we put them in a tepid bath with a well-known cleaner. They came out fine, or so it seemed. They were rinsed and hung out to dry, not an easy job. Mike re-hung them last night. Oh dear, they were all twisted and bent. Mike reckoned they could probably be ironed flat, individually, which would take some time. However, when we pulled them across last night, they looked awful. All stained in various places, normal colour in others. What the staining is, we are not quite sure, whether they have lost colour in some parts and keep it in others we do not know. But they looked disgusting. We checked this morning in a couple of catalogues only to find they should never actually be put in water. We learned the hard way.
Mike has gone out to buy replacement strips. Luckily they do sell them in packets without buying a whole new blind. However, they are not cheap. This afternoon he will have the job of taking all the old ones off the track bit by bit and putting up the new ones.
Like I said, very little has gone right for us this year and with lots of medical appointments coming up, is it any wonder that I am worried and very anxious?
At least it has stopped raining and the sun has come out although I do not know how long it will last. It is supposed to get warmer though which will be nice. Perhaps we will be able to open the doors and windows and get some fresh air in.
Right now I am very tired. If I woke up once in the night, I woke up twenty times, had very little sleep, I guess I had the doctors on my mind. Then I took a tranquiliser to get me there this morning. All I want to do right now is sleep.
Well, let us hope these antibiotics work and I feel better really soon. I am fed up with being unwell and I am fed up with being miserable and down.
Hoping you all have a good week, dear friends and readers.