I logged on today to find I had been given an award.
The lovely Regina of

A PAGE UNTURNED

has given me the award which was originally given to her by Cindi. I am very pleased to receive it. I do not know anyone I can pass it on to because Regina has named most of the people that I know that have been affected. If this applies to you or anyone that you know then please snag it.
Here it is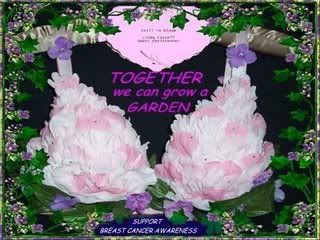 Of course I still have a long way to go. I am only too aware that here we are in March and in May I am due for a mammogram again and a visit with my oncologist. Also a bone density scan. I am already getting nervous about it, time flies so fast and it will soon be here. I only hope I get the good news again that I received last year and that will be my second year all-clear.
I trust in God and hope for the best possible outcome.
Spring must be in the air. Yesterday I looked at the net curtains in the kitchen and decided it was time they had a bath. I hand-washed them. What a difference. So I decided that today, the rest of the nets would get a similar treatment. Too many to do by hand so I have them in the machine on the coolest setting. The sun is shining right now and in a few minutes they will be hung outside and will be dry in no time.
It is nice to know that the clocks will change this month and we will get the lighter evenings back. There is a lot that needs to be done in the garden, the grass has never been so high but the ground is like a bog after all the snow and rain so we cannot even attempt to cut it.
We do have Daffodils blooming at the front - a sure sign that Spring is not far away.
I still have a cough from this bug, not as bad as it was but so annoying. I have been told it can last for weeks!
Well, the curtains are done. Time to see to them and then eat lunch. I hope you have all been having a good week, dear friends and readers.