The snow started yesterday, not much of it but it continued overnight and it has been snowing quite heavily all day.
Of course, being the U.K. everything comes to a standstill even though it was forecast. Airports have been closed, chaos on the roads and on the railways. It seems that we are never prepared. Quite a few mild winters have made us complacent.
There was not one bus running in London this morning.
Nathan's school is closed, along with countless others, but the boys were very excited and have been or will be, building a snowman.
Jesse and Jack accept it and love it whilst Leo has just been sitting at the window all the time trying to catch the snowflakes.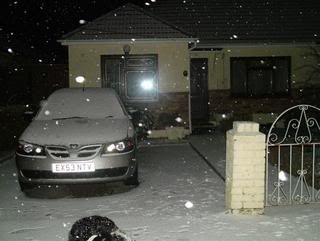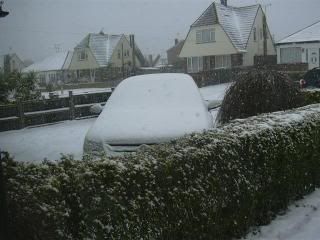 We watched "Dancing On Ice" against last night and this time Todd Carty did not skate completely off the ice, nor fall over, but his routine was extremely poor. His popularity with the public got him voted through again and it is unfair now that skaters with potential are being knocked out of the competition, whilst he remains. There is another skater who should have gone as well, but it is the public vote that counts.
I was shocked to read that the American woman who gave birth to the eight babies already has six children, is not married and lives with her parents. All her children were apparently conceived by fertility treatment. I do not understand how this could have been allowed. She now has fourteen children all under eight. There was also a mention that she has mental problems. I hope there is an investigation and heads roll over it. I find it pretty disgraceful.
I was also shocked to read this morning that a nurse could face disciplinary action or even lose her job for praying with a patient!! It seems now that Christians are becoming a persecuted minority in our country. What is the world coming to?
I am continuing with my exercise although sometimes it is hard to get motivated. I have noticed that I have lost a chin (ha ha) so maybe it is doing some good. It will certainly help me to be more fit.
Well, that is about all for now. If it is snowing and cold where you are, wrap up well and keep warm.
Have a good week, dear friends and readers.