Hopefully, I have been given one more chance to get my sugar levels down to what is acceptable for my surgery.
I say hopefully because I will not know definitely until this Friday. Kim, my diabetic nurse, checked my records thoroughly and told me that I am not yet on the full dose of Metformin and that they should be able to increase that. After that, I will be on maximum dose, a dose over which they cannot go. There will be no more chances remaining and it will be insulin. However, the doctor she needs to speak to, the one that will give overall consent was not available today and she is not on duty again until Friday. I have to wait for a phone call from her on that day. I hope the news will be what I want to hear as Becky and family go away for a Christmas break on that day and I do not want her worrying about me.
So, I am on tenterhooks until then. We did have a long discussion on my lifestyle and she was appalled at how long I spend on the computer. This was not helped, of course, by aol throwing us away and our forcible removal to blogger. I had not a clue how to go about things and it took me endless days to work things out and set up my new journal. Then there was all the hassle of trying to get my old journal transferred, that went on for over three weeks with e-mails flying backward and forwards between myself and an aol employee. Not to mention the upset that it all caused.
I guess in my heart of hearts I knew I was spending far too long on here and that it was not doing me any good. However, I did so want to get things up and running and keep in touch with everyone.
Also, I had a couple of bugs between the last time I had my readings done and the stress of my hospital check.
However, it now lies in my own hands, if the doctor agrees on a medication increase, and I hope to God that he does. My lifestyle needs to be changed completely. Kim suggested I purchase an exercise DVD for the over fifties. I have looked on Amazon with no luck whatsoever. If anyone know where I can purchase one, please let me know because I am desperate to obtain one with gentle exercises tailored to my age group. She says I must try and do at least twenty minutes per day of proper exercising, not just housework. She even said this would probably help with my arthritis as well.
No more takeaway meals as we had for my birthday, Mike's birthday and our anniversary. I can have my Christmas dinner this year but after that it is a totally strict diet regime with no extras at any time, combined with the exercise. She wants me to lose at least 28 pounds between now and April and I should be able to do that providing I adhere to what I have been told. She is going to do her best with the doctor because he is not MY doctor and is quite a stickler. However, she feels I already have enough to deal with because of my breast cancer treatment and the fact I shall be attending at the hospital for tests and consultations for the next few years regarding that and all this she will explain to him.
She also knows that I trust her implicitly, we get on so well, she understands my phobias and fears. If I have to go onto insulin she will no longer be able to be any part of my treatment, it will be strictly hospital visits only. Once again she will point this out to the doctor, because he does not know me nor my phobia about medical places. Waiting until Friday is going to be hard. But at least I have been given the opportunity of one more chance. I am hoping that God grants me that chance.
I am happy to report that my Cholesterol was 4 which they consider excellent, my kidney function is perfect and also my liver function. It is the sugar levels that need to be far better controlled.
So along with the lifestyle changes I have to make, that also includes the computer. I have been told I have to cut down my time on here and that my future health depends on it. So, my friends, in the future, the maximum number of postings I shall do will be two per week. Maybe sometimes only one. I shall comment on your journals only on the days when I do my postings unless there are special circumstances such as one of you needing my support. If ever I have anything special to tell you, that will be an exception as well.
It used to be so quick and easy with J-Land alerts, there they were all waiting for you and you could get through them fairly quickly and easily. The google system we have on here takes much longer.
This does not mean that I care any the less about all of you but the time has come when I have to put myself first. Kim also told me that continued high sugars increase the risk of cancer especially in patients who have already had it. I am not prepared to take that risk. I know that you will all understand.
Of course, I will check my e-mail every day. If you know of anyone who needs help then please contact me and I will add them to Call For Support, or if you hear anything you think I should know then go ahead and e-mail me. I will still continue to help where I can. My aim is to spend no more than one hour on the computer in the morning and one hour in the evening for the forseeable future.
On a much brighter note, I took a great step forward this evening after leaving the surgery. I went over to Becky's house. The first time I had been there in four and a half years - yes, really that long. The last time I went there was the day Nathan first came home from hospital and he is now at full time school! After that, I never went there again. I came out of that surgery determined to get there if I panicked all the way and whatever state I was in when I arrived.
I was amazed at the display of outside lights Dean and Becky had put up. I will ask her to get a picture as I did not have my camera with me. She had no idea I was going to try for it. In fact, Mike had no idea until we left the surgery and I told him I wanted to go for a drive and that he was to head in Becky's direction so I could at least see some Christmas lights. What nobody knew, and I am not ashamed to share with you, is that I prayed to God that in His mercy, he would give me another chance and if there was the offer of one, I would move heaven and earth to get to Becky. I kept my promise.
Now, I am not going to let God down by going back to the same old lifestyle and the same old bad habits. This, I hope, is my chance to grab the bull by the horns and turn my life around.
My legs were shaking when I got out of the car. I rang her bell and I heard her say to the boys that it was probably carol singers. When she opened the door her words were "Oh My God" and the look of surprise and delight on her face was something to behold. She threw her arms around me and I cried and I think she shed a little tear as well.
The boys could not believe it as they had never seen me at their house. I was able to view all the alterations they had done two and a half years ago and sit and have a cup of tea with Becky surrounded by twinkling Christmas lights. She is going to help in any way she can, asking me what exercise I have done each day and encouraging me.
She even offered us a meal there but I had to decline as I did not have my diabetic medication with me and I have to take one type before I eat and the other type after. Also there was a special childrens' service at their church and they were going to that about an hour later. I could not have joined them because of the eating and medication situation.
Becky saw us to the car and we just stood there hugging and hugging. I was so glad I had managed to do it. Of course, it was easier for me because it was dark. For some reason it is much harder for agoraphobics to go out in daylight than in the dark. That does not detract from the fact that I went there and here are a couple of photos to prove it.
By Becky's tree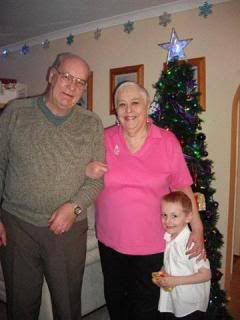 With snowman friend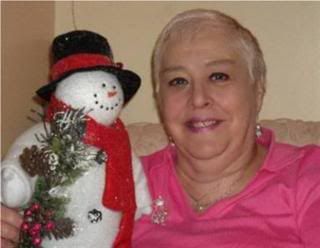 My wonderful daughter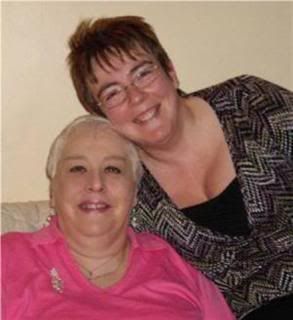 I am very tired now as you can imagine, that appointment had been weighing heavily on my mind and going to Becky's on top took a lot of determination and effort plus I have to wait until Friday to find what the outcome will be.
I am off to read for a while and then, for a great change, an early night. Tomorrow is another day and I hope the start of a journey to much improved health. Please pray that the doctor agrees to the increase in medication, that I can find an exercise DVD suitable for my age and that from now on it is onwards and upwards.