If you would prefer not to hear the Christmas music, then please press the off button on the player located on my sidebar.
Hard to believe that by this weekend Christmas will be over and gone. December has simply flown by. As expected, there will be no white Christmas for us again unless there is a sudden dramatic turn in the weather.
The presents are all wrapped, apart from one that has not arrived and I am beginning to have doubts it will get here in time. Mike tried to get some Mistletoe but none is available for love nor money although there was supposed to be a super abundant supply of it this year.
Thank you for all the lovely cards we have received, they are still coming in. Isn't it nice to get something bright and cheerful in the post each day?
I heard from the surgery last Friday. They are starting me on a new tablet after Christmas in addition to the ones that I am already on. The doctor decided it would be better for me than increasing the Metformin. I am apprehensive about it, I always am with new medication as I have had bad reactions to tablets in the past. That is why they have decided that I should start it after Christmas. The diabetic staff are not on duty this week, being Christmas week. So, just in case of any side-effects they said the best thing to do was wait until after the holidays. Naturally I am hoping that there will be no trouble with it as that would cut out out that option straight away and still leave me with the possibility of insulin.
I ask once more, for your prayers on this matter, I so need something to go right for me for a change. If all goes well then I can truly be stress free until my next appointment with the oncologist in May of next year. So, I need this new pill to work for me with no problems and combined with diet and exercise, see the desired results.
I was a little sad last night, in fact I still am. Some of you may remember that I lost a very dear friend, very suddenly, two years back immediately after Christmas. She had longed for years to be a Grandmother and died just two weeks after her Grandson was born. She was so special to me. Her husband has kept in touch with me on a regular basis. I was worried I had not heard from him for the last few months and when I rang, I could get no answer. Well, he did phone last night. He is being treated for c of the gullet and has been undergoing intensive chemotherapy. He is such a dear man and now has two Grandchildren, the little girl being only eleven months old. He has responded very well to treatment so far but has had to see a counsellor because of the shock of it all.
So, can I ask you all to hold Eric in your prayers as well. I will not put his surname here. No need to, God will know who you mean.
Well, I did not intend this to sound depressing although I am always down at this time of the year. Christmas used to be such a magical time for me but now it is always tinged with sadness. Losing my Grandfather, Mother and Father all at Christmas, then my dear friend just after. It is always a time full of memories and nostalgia. Mike took the flowers to the cemetery yesterday and it all looks so bright and pretty. It was packed and hard to find a parking space, there were so many people remembering their lost ones.
Of course, we have our Grandsons now and will make the best of it for their sakes but you cannot forget what is gone and can never be again. We can only hope to make new memories.
Anyway, I have a couple more photos to share with you of some neighbours' lights. Considering the credit crunch, I am surprised that so many have put lights up at all and some have done more than ever. Probably because they need cheering up. They are so nice to see.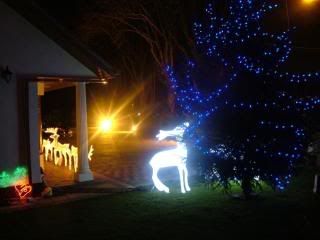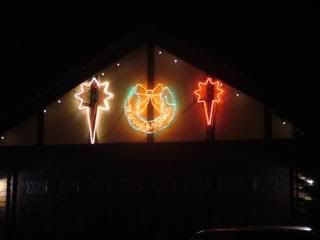 Well, time to get off here now. I am being good and sticking to my promise to myself about cutting my computer time, although things have not gone quite as planned as I have felt under the weather all weekend and unable to exercise. I have, at least, stuck to my diet.
I hope all your preparations as going well or, like me, you have finished them. For those who have not yet finished, try not to get too stressed out.