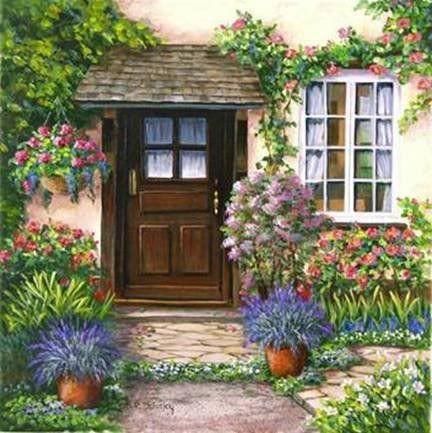 I have been doing one of my least favourite tasks this morning - cleaning out drawers. It is amazing how much rubbish we accumulate over a very short period of time. It does not seem all that long since I last did this job.
However, there are compensations. Amongst all the old bills, letters and odds and ends, there were some old family photographs that had somehow managed to escape from the place where I normally keep them. So, I decided to share them with you today.
A couple of entries back I told about what happened to my Grandfather in the Great War. Here is a photograph of him taken when he was much younger, in fact at around the time of his marriage, at the age of twenty-seven.
Of course, he never looked as stern as that in real life. He had a lovely smile but people never looked happy in old photographs. Probably because they had to wait for so long, sitting in the one pose, for the picture to actually be taken.
The next photograph is of his daughter, my Mother, his only surviving daughter. It is not in good condition, it has been badly scratched because she never framed it and it has acquired many blemishes over the long years since it was taken. I have done the best I can to make it look better. It would have been taken when she was around the age of eighteen.
The next picture is something of a mystery. Once again, it belonged to my Mother and she has written on the back that it is her aunts as little girls, that is the sisters of my Grandfather, pictured above. I suppose she would have been in a position to know. However, the costumes to me do not seem to fit the period. It would need
a specialist to work out roughly when it was taken. However, it is a charming picture of three little girls and they definitely have the family features.
If it is them then they would be Harriet, Jessie and Louisa.
Lastly we have Mike's Grandfather. This is on his maternal side. His Grandfather was Thomas R. He was born in Gloucestershire but moved to Kent at some stage where he remained for the rest of his life. As you can see he was a police constable when this photo was taken but rose to be a police sergeant. He was a keen inter-county bowls player (green bowling, not ten-pin). His wife was born in Kent and that is probably where they met. However, when their daughter - Mike's Mother, was just a year old, she ran off with another man. Thomas never remarried.
So, both our Grandfather's are on this page and they are both our maternal Grandfathers. Strangely, they died the same year - 1949.
After a sunny start, it has turned very cold and I am sitting here shivering now, so I am going to make a nice hot cup of tea and put the heating on.
Then I have more cleaning to do. I want to make a start on the wardrobes (closets) but......................just maybe I will leave that until another day.
I hope that you have enjoyed seeing some of our old family photos. I have more that I can share another time.
Have a good weekend, my dear friends and readers.
Please sign the my guestbook at the top of the page if you have not already done so. Add your photo or a graphic. I do so like to see the faces of my friends and cheerful things. Thank you.