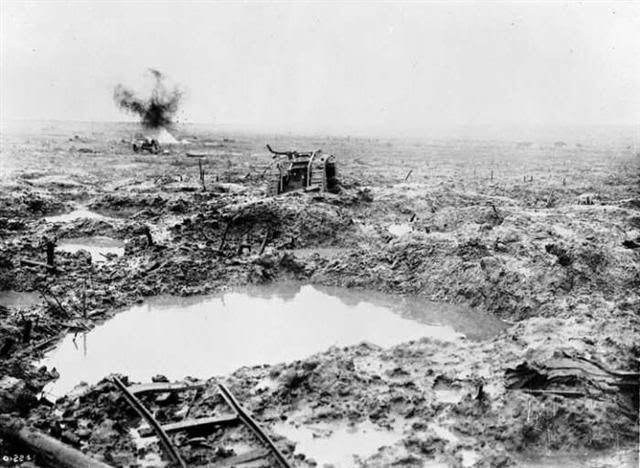 Our day of Remembrance is drawing near.
I have been following the BBC series "My Family At War" in which celebrities trace what happened to their ancestors during World War One.
The other night it was the turn of T.V. presenter, Kate Silverton, to trace her Great-Grandfather. She was surprised to learn that he had volunteered at the age of thirty-seven. The professional researcher who was helping, informed her that this was an advanced age as most of the men fighting would be aged from eighteen to thirty. He told her that the other men would probably have called him "Grandad". He would have to have been drilled for twelve hours per day, carrying a full pack, then be shipped overseas to face horrendous conditions. Kate was told that it would be very hard on a man of that age.
I immediately thought of my own maternal Grandfather, William. His war began when he was forty! Whether he volunteered at that age is not known. He might have been called up because the casualty lists had been ghastly and the country had to use every able-bodied man.
Anyway, as my Grandfather had been born in 1876 and entered the Artillery in 1916, there is no doubt that he would have been forty years of age. A quiet man, a tea salesman, no military experience whatsoever. How hard it must have been for him then!
I have tried in vain to find his service record but to no avail. A huge fire in 1940, caused by the Blitz, destroyed nearly all the records and what was left was subjected to water damage from trying to extinguish the flames. What records remain are called the "burnt records" and mostly relate to officers. I have searched for his pension records but William Stanley was a common name and there are so many of them. Without an army number, it is impossible. The same problem arises with the medal records. He would have received a medal, they all did, just for being there. I believe there was also a Victory medal. Once again, his army number would be required, something I do not know and have no way of obtaining.
We do not know much of his army career, what battles he had experienced and where he had served previously, but we do know that he was at Passchendaele, otherwise known as the 3rd battle of Ypres in Belgium. This battle lasted from July through to November of 1917. Conditions were appalling. There was constant rain and the continual bombardment of shells had destroyed the natural drainage system. The place was a quagmire. Not a tree left standing, not a blade of grass. The mud was so deep in places that men would vanish into it without a trace, their bodies never to be found.
Then there were the trenches, alive with rats, filled with water, the appalling stench - and all the men carried lice. The lice spread Trench Fever which went undiagnosed at the time. Men were continually scratching, the lice faeces entered their bloodstreams causing swollen joints, fever, debility. In some cases the effects lasted for life. All this my Grandfather had to endure at the age of 41. In fact he "celebrated" his 41st birthday during that battle.
The pictures I have posted are of that actual battlefield. So many thousands died there. My Grandfather must have seen men he had come to call friends, fall all around him. He probably expected to be killed at any moment. He would have thought of his wife and children back home, worried how they would cope if his life was lost.
His war was to end differently. Gas was used by the enemy in that battle as in many others, where mustard gas and nerve gas was used against our troops. At first there were no gas-masks, all the men could do was urinate on one of their socks and tie that over their faces. By 1917 all men had gas-masks. It might have been such a sudden gas attack, he did not have time to put his on. He was hit by the gas and hit hard. He became a casualty and was stretchered away from the battlefield.
He was blinded for some time, his lungs were affected. He was invalided home. For him the war was over. He was one of the lucky ones. He came back, unlike so many millions of others. I am very proud of him.
My Grandfather.
He was able to return to civilian life and pick up the pieces. He was never the same, always quiet, he became quieter, he aged in more than just years. He did tell my Grandmother some of what went on. He refused to discuss it with anyone else. She told us he was haunted by nightmares long afterwards and would wake up yelling and sweating.
Just a few years later, the world was at war again. Since then, there have been few years when a war was not being waged somewhere or other, Korea, Vietnam, Yugoslavia - to name but three.
There are those who think we should forget. World War One started over ninety years ago. Why should we continue the yearly Remembrance Day? There are only three living British survivors of that war now. My answer? We should always remember. The likes of World War One had never been seen before. This was the "war to end all wars". It was not.
Today our troops are still laying down their lives in Iraq and Afghanistan. We must continue to remember them, to ensure our children and grandchildren remember them and all those who have died in conflicts throughout the world, across the intervening years since my Grandfather's war, those who did their duty, those who paid the supreme sacrifice.
Wear your poppy with pride and always remember, they bought our freedom with their blood.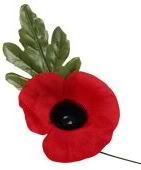 When you go home, tell them of us and say,
For your tomorrow, we gave our today.
A British Cemetery at Passchendaele