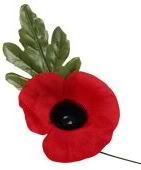 Do you have a relative who served in World War One? The BBC is creating a permanent online memorial wall so that people can post memories about their loved ones, a photograph if there is one, or any information as to where they fought.
I have added my own Grandfather. His story appears in my previous posting.
As far as I am aware, this wall is not limited to British troops.
Please take part if you can, let us remember our loved ones with pride, remember the hell that they went through, the conditions they endured. What better way than a lasting memorial?
BBC - Remembrance - Memorial Wall
At the top right hand side you will see a link to click on to create your own personal remembrance.
I shall be watching the service from the Cenotaph tomorrow morning. The three remaining survivors of The Great War are all hoping to be there if they are able to. The oldest is Henry Allingham at the age of one hundred and twelve years. Then there is Harry Patch, the last of the "tommies" - those that fought in the trenches. I hope they are all well enough and the weather will not make their attendance impossible. I shall be keeping the two minutes silence at the eleventh hour of the eleventh day of the eleventh month.
I salute them all.