Some of you already know how Mike (him indoors) and I met. However, I have lots of new readers since I first wrote the story, a very long time back . So I am sharing with you the tale of how my beloved and I came into contact, because it was not strictly conventional. Our meeting came about as the result of a dare, yes that's right - a dare!

Whilst I was away on holiday, my parents had decided to move much farther out of London. They had already set things in motion by the time I returned. So, I had to leave all my friends and start over in a new area. From a thriving and bustling life , I moved to a place where there was no cinema, no dance-hall, no youth group - nowhere I could make new friends. Also, having become sick of commuting to London, I took a local job, so I was living and working in the same area. My social life hit rock bottom.

Then, a middle-aged friend of my Mother, called Grace, told me I should put an advertisement in the newspaper, under what is commonly known as "Lonely Hearts". I just laughed. She had been widowed twice and had met her third husband that way. Anyway, each time she visited she said the same thing adding, on the last occasion, I dare you. That did it, I knew she did not believe I would ever do it. Determined to prove her wrong, I went ahead.

As I dropped the letter in the mailbox it suddenly occured to me what I had done and I felt more than a little nervous and a bit stupid.

About ten days went past and then the postman came to our door bearing a sack of replies!!!!! Well over 200 of them. It took me several days to work my way through them. Some were instantly discarded, for reasons I simply cannot go into here. After a long process I eventually got down to about twelve. Of those twelve I put four into an "only if I am desperate" pile.

So, I replied to the remaining eight, giving my telephone number but no full name or address. They all contacted me and I have never been wined and dined so much in all my life. I had a marvellous time. This might make it sound other than what it was. I kept all the relationships strictly platonic and just enjoyed the company. I would see how it panned out.

I did come unstuck with one whom I shall refer to as F. He bought me extremely expensive presents, took me to top restaurants and to the theatre. He was a real charmer and very intelligent. It looked as if romance might blossom in a big way. That is until the day I got a telephone call. It was from his wife! She had found my number in one of his contact books. I was so ashamed and embarrassed. However, she was wonderful. She told me not to blame myself, that he made a habit of it and that I was one of many over the last few years. She said that this time, he had burned his boats, she was divorcing him. Needless to say I never heard from F. again.

This did not deter me for long - and I soon made contact with some of the others who had replied to my advertisement. Well, eventually I came to realise that, nice though these men were, I had not found the one for me - (not that I was seriously looking for anything more than friendship then). So , one by one ,they fell by the wayside and it was back to the old life.

Then I remembered the "desperate" list and had a look. Oh well I thought, might as well try a couple. Yes, my beloved was one of those. In fact he was the last on the list. I rang him and we arranged to meet.

He picked me up one evening from night school. I will be totally honest because Mike knows how I felt, we still laugh about it. My heart sank, he was not my type at all. Not the sort of man I was usually attracted to. No tall, slim, Adonis, with masses of dark curly hair, but..........he had a beautiful car!!!! I can imagine some of you being shocked and thinking how mercenary I sound - but it was always my dream to ride in a fast and classy vehicle. This was an E-type Jaguar.

I saw absolutely nothing wrong in having a drink with him and having at least one trip in that gorgeous car. Then I could give him the brush-off. So, off we went. Out into the middle of nowhere, unlit country lanes. I had absolutely no idea of where I was and there were no houses for miles around. I had the horrible feeling that I had come across a pervert and this was going to be the end of me, perhaps violated and murdered in some isolated spot. My heart was pounding in my chest and my hands started to sweat. This was a big stocky man. How could I ever fight him off?

However, he pulled over, turned off the engine and proceeded to tell me about his life , his unhappy marriage - he was divorced and asked all about mine and then, like a perfect gentleman, took me for a drink and then drove me home. I thought he was rather sweet. So, we started seeing each other a couple of times a week.

Three months later he asked me to marry him. I refused. He asked again and again. I always refused. He said he would never give up. I told him I would not marry him if he was the last man on Earth. I liked him but nothing more.

He started coming around nightly, I never had any time to myself. He was always there, Saturdays and Sundays included. I started to feel suffocated and considered telling him to get lost. Then Mike suggested going on holiday, all of us including my parents. He had been telling us for some time how lovely the Isle of Man was. He explained we would need a driver because none of us drove, so it was agreed that Mum, Dad, myself and Mike would go on holiday for two weeks, we would hire a car on the Island. He would be our chauffeur and he knew all the places of interest.

Well, we had a very long journey from the south of England to Liverpool where we had to catch the Ferry. On the way to Liverpool, Mike and I had an enormous argument. Neither of us can remember what it was about but when we stopped on the Motorway for something to eat, I told my Mother that was that - when we got back I was dropping him, he was getting on my nerves. She remarked that this was going to be some holiday with us not talking and gloom settled over the whole party. The air was strained, to say the least.

We made the most of things and after a couple of days, the atmosphere became more relaxed, as it does when you are on holiday - that is until I had a blazing argument with my Mother whilst having lunch in the hotel. I stormed off, fed up with the whole thing and sorry I had agreed to go in the first place.

Mum came to my room in a huff and said she and Dad were going off for the rest of the afternoon. I sat in my room feeling very miserable and then came a tap at the door. It was Mike. I let him in and we talked and talked. Then he asked me once more to marry him and the strangest thing happened. Suddenly, I could not imagine life without him, could not imagine never seeing him again. I said yes.

When my parents got back, we announced to them in the bar of the hotel that we were getting married to which my Mother replied "But you don't even like him!" Mike bought the ring next day, in the main city of the Island - Douglas. We came back from holiday engaged and we married five months later. Mike told me later that he always knew I would say yes one day.

This December we celebrate 38 years as man and wife. Placing that advert in the newspaper was the best thing I ever did - apart from giving birth to our daughter.

Now, how did you meet your husband or partner? Go on, spill the beans, I would love to know. I dare you.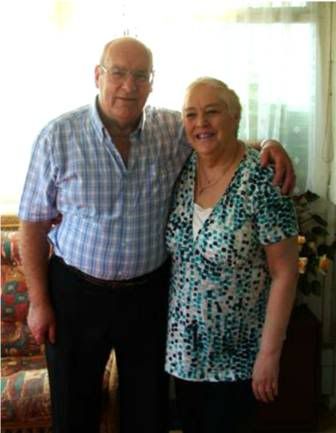 You will notice I have made the comment system much easier. To do the same, go into your dashboard, select settings and then select comments. Scan down the comments related page until you see Comment Form Placement. Make sure that the third option is ticked - it says Embedded Below Post. Then just press save. That is all there is to it. Much more like our old J-Land system.