Here I am again. Well, at long last there are signs of Spring. Nothing on the trees as yet but we do have some flowers.
Last Autumn we planted up an old plastic dog bed with fifty "assorted" crocus bulbs. Well, they have appeared. Mostly gold and not so much the assorted that was promised but it is lovely to see them and a sure sign that our long winter is coming to an end.
They say it was our coldest one for thirty-one years and I can believe it. Temperatures night after night at minus six. Yes, nowhere near as cold as some parts of the world but very cold for this region.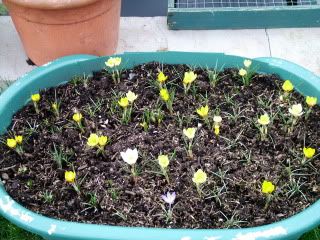 In America I know the clocks have already altered. No so for us yet. It will be nice to see the lighter evenings.
Sunday was Mother's Day and two little boys came up our front path each carrying a large bouquet so my home looks like a florist shop at the moment especially as I had a potted houseplant from Mike. Becky and Dean bought me a string of LED butterfly lights. We have put them up in the conservatory. Just plain white ones but lovely to see.
Mike has had his first appointment at the hearing department of the hospital. He definitely has pronounced loss in one ear and they have already taken an impression for a hearing aid. However, he will also be having an MIR scan to double check that there is no other reason for the problem. So in the last six months he will have had "new" eyes, new teeth and now better hearing!!!!
I think it sad that so many no longer write on Blogger. I know I have been remiss but what with the loss of my sister-in-law and my brother's health plus the fact that we have redecorated our lounge and hallway, moved a shelf to another room and had a general change around, there have been good reasons. It seems that it is mostly the Brits that are leaving.
I have also set myself a mammoth task that I started once before and then got sidetracked. I have four big plastic boxes of family photos. I have started to work my way through them saving them for posterity. Lots are just views that can be thrown away but the ones with people I am scanning, taking out blemishes and marks and saving to an external hard drive and also to disc. As far as I can, I am putting the names, dates and place on the back of each one. I remember my Mother left many old photos. We had no idea who most of the people were and there was nobody to ask and no clues so we ended up throwing them away.
We have been framing some of them are our hall is now a real picture gallery of relatives. It is certainly eye catching and anyone visiting always asks about them.
Some were just little negatives from the old Brownie type camera. For Christmas I brought Mike a contraption whereby you can print negatives off, no matter how old. So, he has been printing them, I have been enlarging them and removing any blemishes. Very time consuming but so worthwhile.
I thought I would share a couple with you today. This first one came from a tiny negative. It was taken pre-war, probably around 1937 or 1938. It shows my Nan on the left (my maternal Grandmother, my Mother and my two brothers and, believe it or not, it was taken no far from where I live now.
I reckon My Mum must have knitted that pixie hat herself.
This next one is of my Father, probably taken before he was married. Every year he did the London Stock Exchange Walking Race. He is shown here being handed refreshment by an unknown lady.
Coming a little more up-to-date this next photo shows my Mum, Dad and Myself taken on holiday. I was seven years old and I can still remember the colours on the dress I was wearing as it was a favourite of mine.
Next a picture of my beloved (well I could not leave him out could I?) He was in the R.A.F. at the time and this photograph was taken in July of 1956 at Cannock.
As I started on a Spring theme, I will end on one. The final photo for now is of Becky when she was little, taken in early Spring. She was fifteen months old.
Well, I might not have written for a while but I think I have made up for it today. I hope that life is treating you all kindly and that you are all looking forward to the warmer weather. I shall probably post more of our old photos from time to time.
Until the next time, dear friends and readers.