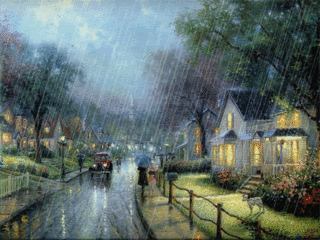 What a miserable day. Very chilly and so dark I have had to have the lights on since I got up. It started drizzling a short time ago.
Mike has been for his check-up at the eye clinic. He has new drops to put in for the next three weeks. Other than that, unless he develops any problems which I am sure he will not, he does not have to see them again. I know all this because he just phoned and told me.
Before he left the hospital, he went up to my brother's ward and asked if he could see him. Visiting is not usually allowed in the mornings but as he had his papers from the eye clinic with him, they granted him fifteen minutes.
My brother has now responded to the new drugs and to the oxygen and he is no longer gasping for breath. However, we know his condition is not curable, only treatable. So, good news in one way but more worrying news in another. My brother has been yellow for some weeks, his colour I mean. I could not understand why his normal doctor did nothing about it. However, the hospital doctors told him this morning that they are extremely concerned about his liver (I suspected liver trouble all along) and they are going to start a lot of tests on him. Mike and I both feel we know the outcome of this one although we could be wrong and it could be hepatitis.
He was very pleased to see Mike of course. My brother's step-daughter has come up from Wiltshire and will be visiting him this afternoon and also visiting her mother. We have no contact with her. We were very close at one time but when she moved to the West Country, she dropped us completely. It must be twelve years since we have spoken, maybe more. Anyway, he will have a visitor and that is the main thing.
So, at the moment, it is just a waiting game all around. Of course, I shall keep you updated. It is so heart-warming to know what caring people you all are. You support is a great strength and comfort to me and Mike appreciates it greatly as well.
Well, Mike will be home in a minute so I had better put the kettle on. I know he will be longing for a nice hot cup of tea.
Until the next time, dear friends and readers.