Work has been progressing well despite the weather. It has been very windy, showery and very cold. We did not envy the workman but we kept them continally topped up with hot drinks.
So, it was on to stage two, the removal of our patio doors and our old back door. Here is how it used to look (minus old sun room). The back door was quite attractive but single-glazed so we lost a lot of heat through there. If you look closely you can see Jack's nose poking out through the catflap!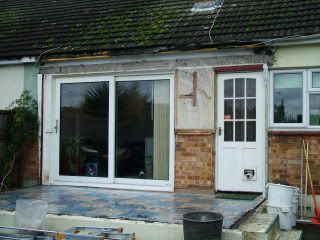 Now the patio doors taken from the lounge: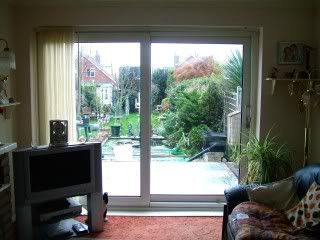 The first job was to remove the patio doors: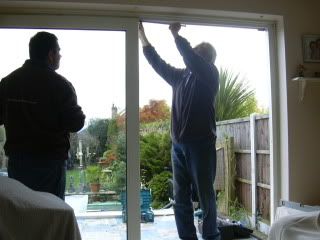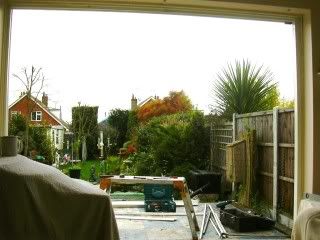 So, there was just a large empty gap and believe me it was cold! So, we took ourselves into another room whilst they installed the new doors.
Now we have spanking new french doors and very nice they look as well. This next photo shows all the new doors including the back door:-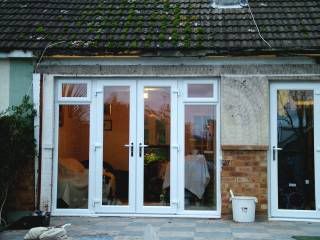 Next, the conservatory frame was erected:
Looking out through the new back door - you will see the roof beams already in place.
Work has ceased for the weekend and commences again on Monday. There is still a very great deal to be done, the floor has to be evened off as we have gained about four inches and it has to be level for Mike to lay down either tiles or lino. All the glass has to go in which is going to take quite a few hours, the step down into the garden has to be demolished and a new one built. Electric cables have to be run for the lighting and electric sockets put back in place plus the finishing of house walls to cover bricks that show. It should be finished be the end of next week.
Then they will commence on replacing the rest of our windows, the ones we did not have done last year. So, all will be finished in time for Christmas.
We could not have chosen better workmen. We had several quotes but the firm we used last year for our front windows won out on presentation and on price. These are men who really take pride in their work, very painstaking and doing little extras for us at no cost to ourselves. They are also very likeable and we have many laughs with them.
I am looking forward to seeing the roof going on. The glass for the roof is tinted to cut down glare and it is blue tinted which will give the impression of a brighter sky on the darkest of days.
Hope you are enjoying seeing the work in its various stages. On Monday morning I have an appointment at the breast unit to see my surgeon. As always I am very nervous, dreading the journey and hoping all is well and no problems will be found. At least I have something to look forward to when I get home. Wish me luck.
Have a good weekend dear friends and readers.