Work started today on demolishing our old sun-lounge preparatory to erecting a new conservatory.
We were very lucky. Torrential rain in twenty minute bursts but, in between, blue skies and sunshine. There was a lot of noise but little dust and they dismantled it all without even making a crack in the glass. We were stagged when the wall panels came out and we could see just how much rot there was in the wood behind them. Also, the roof must have been leaking for quite some time, unbeknown to us, before it actually started dripping onto the rug we had out there.
Anyway, here is how it used to look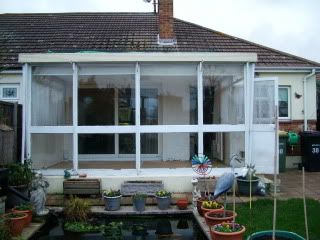 Now a view of it totally empty and the ceiling we used to have which was faced with polysytrene tiles: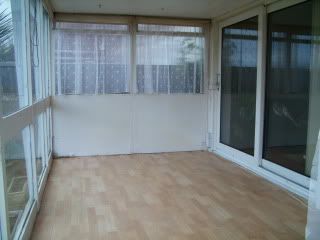 The next photograph shows the ceiling with the tiles taken down. You can see just how much water was getting in. It just had to go. The workmen commented on how well built it had been originally bearing in mind that it was built by a previous owner and not by professionals. It has seen a lot of history. When it was built (we found the original plans) JFK had not been assassinated, I was still living at home with my parents, Mike was still married to his first wife. Think of all the history it has seen. It also withstood the hurricane of 1987.
Next the roof has been completely demolished:
Now, the sides coming down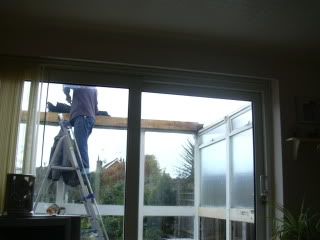 Lastly a view of what it looks like right at this moment. Well, not exactly at this moment as darkness has fallen since then. It seems very strange looking straight out onto the garden and actually seeing the rain running down the patio doors which lead onto the outside (originally into the sun-lounge)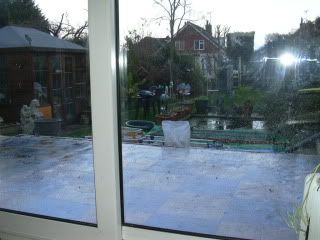 The parts for the new conservatory are probably being delivered on Wednesday. In the meantime, tomorrow they will fit us a new double-glazed back door. Our current door is only single glazed. This is the door that will lead out onto the new conservatory. At the moment, the door we have is half wood and half glass. The new one will be all glass which will let more light into the kitchen and into our hallway which is narrow and quite dark.
So, all in all, a very good day's work. What we were glad to see go the most was the bar right across the centre of the windows. When you sat out there and looked at the garden it was right across your eyeline so you either had to duck your head down or stand up. It was a great aggravation to us.
Anyway, more pictures when the next stage of work commences.
Have a good week everyone.