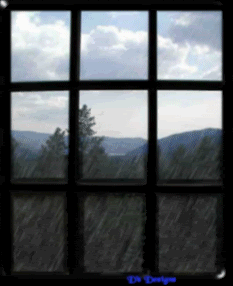 The Met Office has finally admitted that they got the weather prediction for this summer totally wrong. Surprise, surprise, as if we had not already guessed that. They were wrong last year and also the year before.
One has to wonder about global warming. If they cannot get the prediction correct for the current year, then how can they forecast ten years ahead, fifty years ahead, one hundred years ahead?

It has rained almost every day this July and there has not been one day when it has been possible to actually sit in the garden. All the hard work we had put into the garden has only been viewed through the windows. Him indoors did manage to hard prune a couple of our trees in between downpours. We can only hope that we do get a few warm sunny days before summer finally bows out.

Becky and family enjoyed their holiday. Dean has a very demanding job and works long hours so at least it gave them all a chance to be together and they made the best of it despite Mother Nature having other ideas on what the weather should be.

Becky sent through a few photos which I am going to share with you today. The first three were
taken when they did a day trip on the Norfolk Broads.


For our American friends who would not understand the Norfolk Broads, here is a brief description. The Norfolk Broads is now the UK's largest nationally protected wetland and an important area for wildlife. The Broads were formed when people dug for peat in Medieval times and then they were later flooded. The Victorians used them for transporting heavy loads but nowadays they are used purely for pleasure and passengers are the boats' main cargo.

The next two photos were taken on the beach at Great Yarmouth. It was obviously not the weather to go swimming!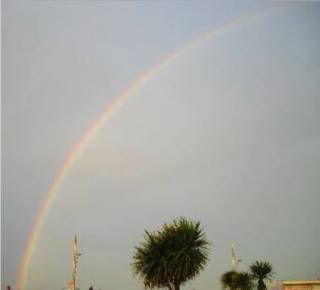 The remaining photos are of the two boys just having fun. This is the first time they have gone on rides without their parents being with them.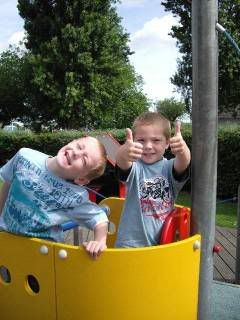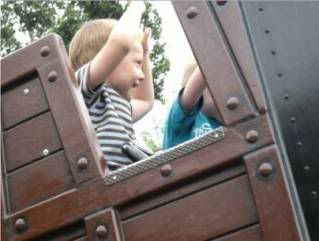 I am sorry that some of you would have had an alert from me yesterday under dashboard or google reader, then gone there to find the entry had been deleted. I had a lot of problems with the posting yesterday. I have had problems uploading photos today which is why I have not added all of them. There were only a couple more of the boys on the rides.
Well, I think that is all for now. I have some jobs to do and need to sort out returns to go to the library before I play my daily dose of Trivial Pursuit and wrestle with the online crossword.
I hope you have all been having a good week, my dear friends and readers.