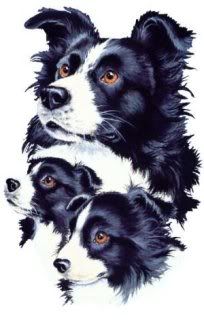 Firstly, thank you so much for the lovely comments you left on my previous posting - my anniversary entry.
The weather remains very changeable. No sign of the heatwave summer that was predicted. Makes me wonder, apart from alerting shipping, what good weather forecasters actually are. They never seem to get it right. We have had very strong winds for several days and the plants have been taking a battering.
Jesse and Jack never worry about the weather. They just enjoy their daily romps across the fields or in the woods and take delight in meeting their friends.
I am going to share a few of their friends with you today.
Firstly we have Elona. Elona is the manageress of our local Off Licence (for our American friends that is Liquor Store). She loves Jesse and Jack. She also has a beautiful dog of her own.
This is Elona's dog. He is a Mastiff called Thai.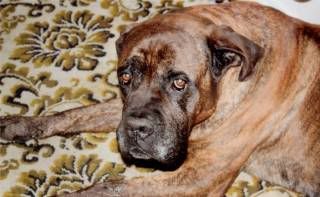 Border Collies are extremely popular in our area so next up we have William (Bill) and his Collie, Ben. Ben is twelve years old now and having some trouble with his back legs but that does not stop him enjoying himself.
Ben is next to his master and then our Jack. They are very similar in appearance although Jack has a lot more white on his face.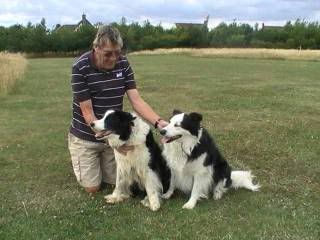 Of course, Jesse had to get in on the act. Why is it that dogs always put their ears down the moment you aim a camera at them?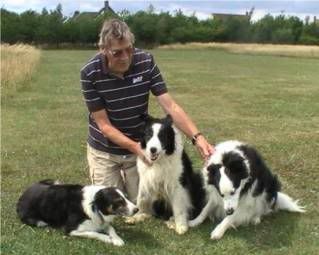 Now Ben on his own.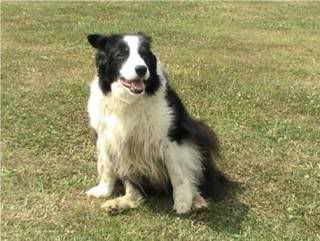 Another one is their canine friends is also a Border Collie. His name is Flynn and his master is Ron. Flynn is a Blue Merle and has one bright blue eye.


Now we have Rita and her lovely Labrador Retriever - Josie.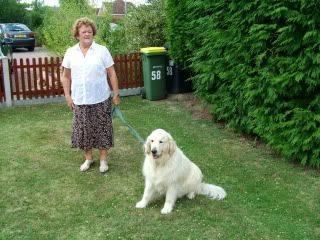 Lastly, our friend and neighbour Brian with his two dogs. Megan is a black Greyhound, originally bred for racing, she had no taste for it so she now lives happily with Brian, Margaret and their other dog, Daisy. Daisy is cream and is a Lurcher.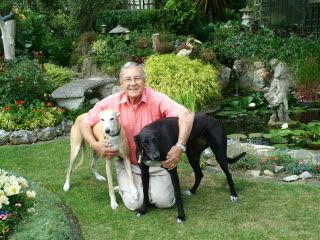 Of course there are many more. We have fields near to us where Him Indoors takes our two and usually gets chatting to someone or other. There is nothing like a dog for attracting conversation and getting to know other dog owners.

I hope that you have enjoyed seeing some of Jesse and Jack's canine friends and our friends as well.

We are going to have lunch now before Mike sets off again on his daily walk. I wonder who he will meet up with today?
Until the next time, dear friends and readers.

Our thanks to all the above people who gave their permission for their pictures to appear here.