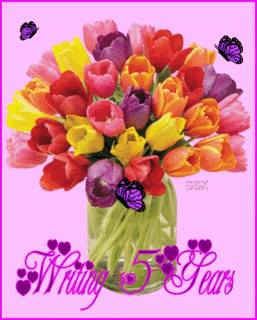 Today, the 19th July is the fifth anniversary of my journal.


It is strange because, in some ways, it feels as if I have always been writing and yet in other ways those five years have gone so fast.

When I first began, I never expected it to last. It was something I thought I would have a go at and maybe squeeze three months out if I was lucky. Of course, I do not post so often these days as I have written so much in the past. Looking back, I should have spaced things out more, not posted every single day. Now, sometimes I struggle to think of something to write about.

What changes there have been in those five years. When I first set up my journal, my eldest Grandson was only three weeks old. He is now five and in September commences his second year at school. My second Grandson was not even born. So I was able to express our joy when he came into the world and you have seen the two boys as they have grown.


Then came my breast cancer and I was able to share that with you through this medium and keep you informed of my progress. I will never forget the outpouring of love and support I received at that time. It helped me get through one of the darkest moments of my life.

You shared with us the loss of our beloved dog, Pip and then the arrival of Jack. Even mundane things such as having a new kitchen installed and re-vamping the bathroom. Ghost stories, family history, poetry - all this and so much more has made an appearance on here.

I helped quite a few people start their own journals. That was in the days when aol used to feature journals and I was lucky enough to be one of them. People would contact me and ask me how to go about things and I would give them what advice I had acquired. It is heartening to me that some of them are still writing.

In world terms there have been floods, earthquakes, terrorist attacks, global warming, the election of a new American president, a world recession and countless other things.

One of the biggest blows was the loss of J-Land when aol decided that our journals were not worthwhile and they did not want us anymore. Even before then, I had seen good journals come and go but a great many more disappeared when aol made that decision. Some left in disgust over the whole issue. Others, originally enthusiastic about coming here to Blogger, found the system just too much to cope with after aol journals which had such an easy format - including having e-mail alerts when friends and contacts had posted. People I had come to know and like very much just disappeared. Some without even a goodbye.

A few have stuck with me since almost the beginning and I have acquired other readers along the way but I remember the days when I used to get thirty to forty comments an entry and many of us had the same.

One way or another it has been a bit of a rollercoaster ride. I often think of those who have left and wonder how their lives are going.

I have had visitors from many countries, although, to my knowledge I have never had any comments other than from people in America and Canada. It is amazing to me that, since I first began writing, I have over 184,000 hits on my "blog."

Social networking seems to be the thing these days. Places like Twitter and Facebook. I use Twitter myself. However, none of these social sites can ever take the place of a journal or blog in my opinion. A journal has a heart, it has a soul, it is part of the person who writes it, an extension of themselves and they can share so much more through their writing than they ever could by leaving short messages and sending endless cyber gifts. You get to know a person much better through a journal than you ever could on a networking site. You get a personal glimpse into their lives, their worries, their joys, their families and their views on many topics.

I guess it is quicker for most people to "network." We live in a lazy society. We live in a texting society where everything seems to be abbreviated. For most people, faster seems to be better. However, it will be a very sad day if blogs ever become a thing of the past.

So, although I no longer post daily, I will continue with my journal for as long as I can. As long as I can think of something to write, I will write it. As long as I have a photo to post, I will post it. As long as you continue to read me, I will carry on.

So, I would like to thank all of you who follow me, all of you who seem to enjoy my little space on the web. I would also like to thank you for your love and support which has sustained me on many occasions.

Now, I am going to be the first to wish my journal a happy fifth birthday!

Until the next time, dear friends and readers.