When I finished my entry yesterday, I stated we have just had a thunderstorm. Well, at around 6.45 p.m. we had another one. I do not think the above photo does the rain justice. The storm lasted for over two hours with forked lightning everywhere. Luckily no harm was done although not all that far from us a house was struck and set onfire.
Whilst it was storming I was looking out at my rear garden and thinking what a designer's nightmare it would be! I love to watch gardening programmes on t.v. especially the Chelsea Flower Show. All those gardens are laid out to perfection, mini paradises, everything fitting together perfectly.
So very tasteful.
If a designer came to my garden he or she would have a pink fit! Where else could you see all the following things in the same small area. Plastic Meerkats, assorted coloured childrens' windmills, a plastic Heron, stone gnomes, stone frogs, plastic squirrels and rabbits, Venus rising from the waves , plastic butterflies, resin fairies etc. etc. Noses would definitely be turned up by any design experts. My garden would be considered in poor taste and common.
So, why do I have these things? Firstly the Heron and the windmills. They serve a very good and sensible purpose. A pond covered in netting does not present a pretty sight although the fish can still be seen, it is never quite the same. My plastic Heron and twirling windmills put any real Heron right off. They like to have a clear shot at their prey. My pond is so surrounded by pots, windmills and the plastic bird that any real one truly does not have a leg to stand on.
The plastic butterflies are also around the pond. That is because they light up at night. Solar powered, they cost nothing to run, look attractive during the day and more so at night as they slowly change colour from turquoise to cerise, green, to gold and then red.
As for the Meerkats, well I happen to love Meerkats. The birds also like the birdbath they are decorated with. Once again, solar powered, it lights up in the evenings. I have other plastic Meerkats on the small rockery to break up all the greenery and the rocks themselves.
I have always had a gnome or two in the garden as they are considered lucky. Venus comes from our old home and our old pond where she used to take pride of place rather than the fairies we have now.
Our plastic deer and fawn mark the last resting place of two of our cats. As for the rabbits and squirrels I like those as well. So why not have them.
At the end of the day, it is our garden. Who cares what anyone else thinks? We like it as it is, always something to catch the eye, always something of interest.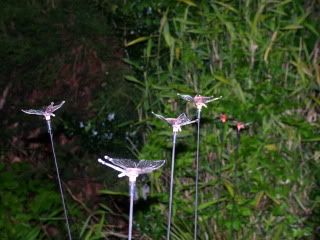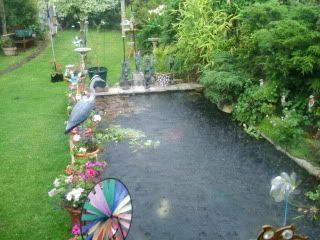 Now you have seen a little for yourselves. We would not have it any other way but, like I said, enough to give any professional garden designer nightmares.
Now for some photos of our Koi. We have nine as both Mike and I were born on the 9th albeit in different years and months. It also gives them plenty of room to swim and to grow.
Firstly, "Big Blue" - just as Mike took the photo a white petal dropped in and the shot is therefore not as good as he would have liked.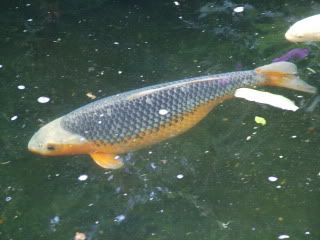 Now come Freckles, Moonlight and Sovereign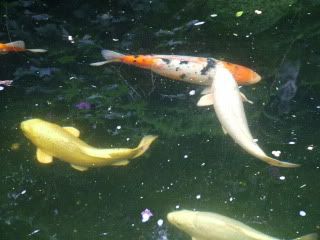 The small one, front left is Flipper, the black/white one next to him is Domino, on the right is Sunset and behind Sunset is Phantom
We also have Ginger, not shown in these photos.
Well, it is getting on for dinner time. Happy Gardening everyone.
Love, Jeannnette