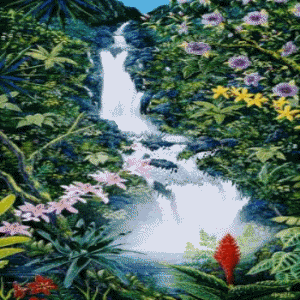 The freezing weather has finally left us although, at 49 degrees, it can hardly be called warm, but then it is January. The skies remain grey and overcast. How nice it would be to see some sunshine.
Becky came over with the boys on Sunday and brought the Wii machine with her. Once again I had quite a few goes on Samba De Amigos. I just love that programme, it is such fun and, as I love latin music anyway, it is also nice to just listen to the tunes. Some are fast paced and some are slow, some are easy to follow and some much harder.
Anyway, Becky is going to bring it over as often as she can as the exercise will be good for me. In the meantime, it has actually inspired me to get my own set of maracas as I cannot afford a Wii machine. They are only cheap ones, very cheap ones, but they do rattle and they are something to hold. So now I can move around to my own music, shaking those maracas! I do so help it will help me to get much fitter.
Becky had her camera with her because Nathan was also doing a school project that required several photos, so, whilst I was "shaking my booty" she started filming me. I hate being filmed now I have become older and also because of my size. However, I am working to improve the size part although I have to be careful and it will take time.
So now you can all have a good laugh at me or better still, with me. The video is certainly very different to those I normally post.
I can actually use this video by playing it and following my own movements whilst shaking my own maracas.
Anyway, here goes.......................................


Anyway, time to get off here and eat my lunch. Then I have a couple of tidying jobs to do before I have another little go at dance exercise.
Have a good week, dear friends and readers.