What a lovely time we had yesterday on our 38th Anniversary. Mike and I exchange small gifts early in the day and then settled down for a rest after a few days of putting up the decorations.
Becky and the boys arrived and they were as excited as we had thought they would be, running from place to place, pointing out a Santa here, a snowflake there. Their eyes were wide and Daniel kept saying "wow". Although we have not done quite so much this year, they are seeing everything through childrens' eyes, so it must look a lot more to them.
We had lovely cards from both Nathan and Daniel and Nathan was very proud to tell me that he had signed his card himself. Indeed he had. We had a nice present from Becky and Dean, something we had wanted.
Later, after work, Dean joined us and we had an excellent Chinese meal together. Nobody had to cook and we were full to capacity.
Our presents from the boys were the latest framed photographs of themselves. I am sure that you would love to see them:-
The boys both told me repeatedly "We like your house Nanna". They are going to like their own today, as their Christmas decorations are going up. I have two nativities. One is a snowglobe and the other is a fibre optic stable. Nathan kept telling me that he could see "the baby gorgeous". He will not have it that it is Jesus, he insists on calling him baby gorgeous. Out of the mouths of babes.
They are both rehearsing for their individual Christmas concerts and very excited about it. Nathan will only say that he plays the part of the man that cooks for everyone - so we have no idea what the play will be about and whether it is the Christmas story or not. Alas, no photographs will be taken unless all parents agree - and that is very unlikely.
Today would have been my Dad's birthday. He would have so loved the boys and been very proud of them. They would have adored him. I am just sorry that he never got to see them. Love you Dad.
Anyway, I have some more photographs for you now, taken yesterday. They speak for themselves.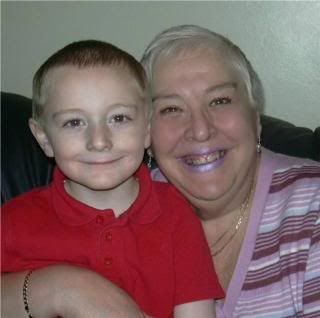 You can see the new tree we got for the mantlepiece, it looks really nice and matches the blue in the lights.
I shall be posting photos of our Christmas decorations in the next couple of days.
Wishing you a very happy weekend, dear friends and readers.