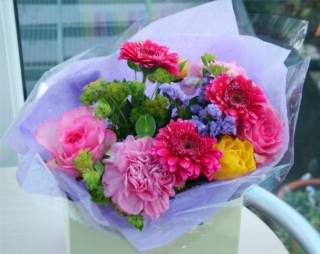 I received this beautiful bunch of flowers, together with a card, on New Year's Day. They were from the daughter of one of our neighbours, Nellie, Mike has been getting her papers and bits of shopping for the several days that the roads were too icy for her to venture out. It was so unexpected but such a lovely gesture and so nice when people appreciate what somebody does for them. I pointed out to Nellie that it was Mike who had done it. "Oh yes, she said, but you allowed him to so you deserve them." Nellie and I have never met although she only lives two doors away. She is a very solitary lady who never mixes with anyone, but we do talk on the telephone.
It has been a quiet start to the New Year, nobody about much because of the cold weather. Yesterday Mike and I took all the decorations down. We used to leave it until twelth night as it is traditional to do so, but that makes everything such a last minute rush. It seems a bit bare without them. It is not so much the decorations I shall miss as the lights. They gave such a warm glow in the evenings and it was nice just to watch t.v. by their light. As we had them in the hall, the lounge and the conservatory, it was cheery everywhere.
Still, I have been changing things around to makes things look a little different. One of my Christmas presents from Mike was two hanging baskets, full or artificial flowers. They match so we have hung them on the two cross beams in the conservatory. Together with the real and artificial plants we already have out there, we have quite an indoor garden. The baskets are red and pink Geraniums and Ivy.
Becky and the boys came over yesterday. I cannot believe how much they are growing up. They are at that cheeky stage now where they like to answer back and laugh. All children go through it. They are back at school tomorrow so Becky will get some peace.
Mike starts with the dentist again tomorrow. He has one or two broken teeth at the bottom and has decided by himself to go the whole hog, get them all taken out and a plate made. So that will entail several visits. Good job his got his eye operations out of the way last year. He is doing very well by the way. Still putting drops in and will have to for about three more weeks and has to go for a follow up appointment. It will be decided then if he needs spectacles for reading although his distance vision is absolutely perfect.
I have to ring the local clinic tomorrow to make an appointment for my diabetic blood tests. I must admit my stomach is going over at the prospect as when the results come through I will have to see the diabetic nurse I have not seen before and apparently she can be a right tartar.
The appointment is unlikely to be this week as you normally have to wait a few days through the blood clinic but more likely the week after this one. I run out of tablets in the meantime so shall just have to put in a prescription request and pin a note to it saying the appointment is made.
I do so hope all will be o.k.
Becky is also doing well after her ear operation. She had all the packing removed before Christmas and she can hear properly in that ear now. She also has a follow-up appointment soon.
So the year has started quietly and, to be honest, I hope it goes on that way after some bad years.
Of course my brother's health is deteriorating and his prospects are not good but at least we are aware of that. His wife remains in hospital and will never be able to return home so there could be some bad news on either of them this year. However, I hope for myself, Mike, Becky, Dean and the boys, it will be calm and smooth. That our problems will be few. I will not know until after the results of my diabetic blood tests.
You all know how traumatic things have been for us over the past couple of years with me, Daniel, Mike, Becky. So please keep your fingers crossed that it will be a far better and more peaceful year for us.
They forecast some snow showers here on Wednesday. Whether it happens remains to be seen but it is certainly very cold. I wonder what happened to global warming??
Until the next time, dear friends and readers.
P.S. I have now had to set my journal so that I approve all comments before they are posted due to a large amount of spam I recently received. I hope it causes you no problems.