It has been a while since I did an entry, amazing how quickly time passes.
So, what have I been up to? Well, we have had some glorious warm Spring weather and Mike and I have spent a good deal of time sitting in the garden enjoying the sun, I now have heat rash to prove it! There is a Blackbird that visits a tree in our garden every day and listening to his song is pure joy.
The Amelanchier tree arrived on schedule and was duly planted. In just a short time it is doing very well. Already coming into blossom
Then there has been the Spring Cleaning. We have been busy washing down walls and paintwork and I have started cleaning out drawers yet again. Soon be time to put away the winters clothes and bring out the Spring and Summer ones.
Our old carpet shampooer packed up some time back and we eventually got around to purchasing another. When that arrived a day was spent carpet cleaning. Oh, the dirt that came out after the long months of winter and having the dogs running in and out. The carpets look so much better now.
All the fish in the pond survived the extremely cold winter that we had and all the snow and ice and our now feeding again. Soon the pond plants will be in bloom.
Nathan and Daniel continue to do well. This picture is of them taken on a visit to the Natural History Museum in London.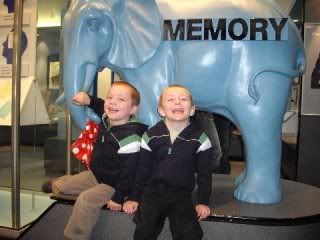 You will remember I was going to change our internet and telephone provider and then we changed our minds. You would not believe the hassle. I cancelled by telephone, I cancelled by e-mail and I cancelled by writing to their offices. Three times I was assured that the order had been cancelled and I would hear no more. It was absolute lies. Letters kept coming in confirming the change-over day. Then we got a letter from British Telecom saying they were sorry to be losing us and their letter was a final termination of our contract. I phoned them. They said as far as they were concerned, we were leaving - no cancellation had been sent to them by the other people. After several phone calls and my frayed temper, it was accepted that we were not leaving. We thought all was settled. No. A few days later a router arrived. I had been expecting a parcel and this one was unmarked, no return address or anything like that so I was stunned to find a router inside with yet another letter, confirming we would be going over to the other people on the 9th April.
Once again I was on the telephone. They told me just to return the router. I told them I had no intention of paying postage on a heavy item we did not order and did not want. It was up to them. Eventually they said they would send me a pre-paid return packet. They have now and we can only hope that is the last of it.
Daniel had his Easter parade at pre-school. Nathan's school does not have them. Becky and Dean made Daniel a hat to wear and very nice it was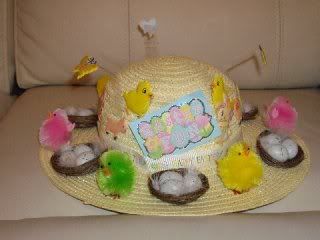 Here he is wearing it
This coming Friday we are having a new bed delivered. Not before time. I was shocked when I worked out the age of our current bed - 34 years. It is very frayed around the edges now, the drawers underneath are broken. We have gone in for one with a memory foam mattress. I do not know whether it will be my cup of tea. I have heard that they are excellent and very good for aches and pains but some people have told me that they are difficult to adapt to and make it harder to turn over. I really do not know until I try it. However, the shop has said that the mattress is on a 30 day trial. If we really cannot get on with it then we can pick a new one and have it exchanged absolutely free which cannot be bad.
So, now I have another job to do. Emptying the drawers that are under our current bed and finding a temporary home for the things inside until Friday.
I will try not to leave it so long before my next entry.
I hope life is treating you kindly, dear friends and readers.