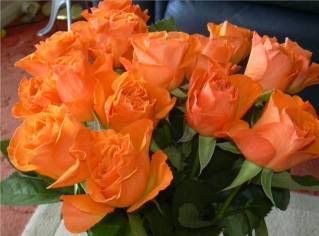 Above are the beautiful roses I received from Mike for Mother's Day, what a stunning colour.
On Saturday it was so warm and sunny that I was able to take myself out into the garden and sit, unusual for March. It was great just to feel the sun and listen to the birds. Him indoors busied himself in taking a dead tree down. I hate to see them go but it had turned brown and looked awful. We shall not put another in its place, just encourage the climbing roses along the top of the fence.
The Lavender plants arrived last week and they are now safely planted so the front garden does not look bare now. I am looking forward to seeing them bloom in the summer.
Becky came over for Mother's Day with flowers, a balloon and cards. Alas, the boys could not visit as they have both been away from school with illness. Becky did not want to risk them passing anything on to me.
Once again it was a beautiful day and Becky and I sat outside and chatted and drank tea.
I am sharing another couple of photos with you. The first one is myself holding Mike's flowers and in the second I am shown with Becky's flowers and balloon:-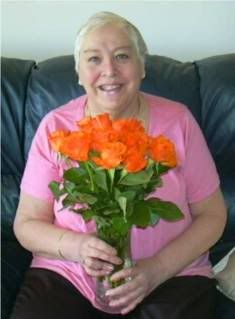 The new tree I ordered for the front garden will be arriving on Thursday afternoon. It might well have to stay in its container in a sheltered spot for the time being as a report in the newspaper this morning said that winter is returning and the weekend is going to be bitter with possible snow. I am even more glad now that I spent two days outside.
The wind is very cold today and the sky is darkening all the time, it could be we will get some more rain. It came down so hard yesterday afternoon but at least it watered in the new plants.
I have let most of you know that I shall not be changing my internet provider after all. Oh, the hassle I have had cancelling, it is still not sorted and believe me, the rudeness I have encountered since I told them we had changed our minds has made me so glad we decided not to go with them.
I have spent nearly all morning on the phone to them and British Telecom trying to get things sorted out.
Well, my beloved will be back from Tesco shortly and I know he would like a nice cup of tea waiting for him so I am off to get that done.
Wishing each and every one of you a good week.