Today is Red Nose Day (Comic Relief). For our American friends, Red Nose Day is a charity day. It is called Red Nose because it was started quite a few years ago now by Comedians.
Thousands all over the British Isles will be wearing their comic red noses/t-shirts and will be taking part in sponsored events. This year the slogan is Do Something Funny For Money.
Tonight the BBC will be running an evening of comedy events that will go on until the early hours of the morning. People do all sorts of things from sitting in a bath of baked beans to running in fancy dressed costume. The ideas that ordinary people come up with are many and varied.
It is amazing how inventive folk can be.
Most of the schools take part and Nathan and Daniel's are no exception. Today the children were all allowed to go in fancy dress.
I thought you would like to see the photos.
Firstly, Daniel as Mr. Bump
Now, Nathan as Mr. Tickle
Lastly, both of them together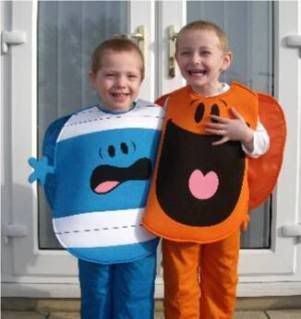 Both of them were very excited and I am sure they had lots of fun seeing all their friends dressed up as well.
I shall be watching some of the happenings on t.v. tonight and making my donation, small though it might be. Every penny counts.
Red Nose Day 2009 Red Nose Day 09
Talking of doing Something Funny For Money, here is Robert Webb. He is a British Comedian and he has entered Lets Dance For Comic Relief.
I thought you might like to see what he came up with........................